A lot of people are interested in making money with OnlyFans or similar services like Fansly, but they're also worried about what might happen if they show their face.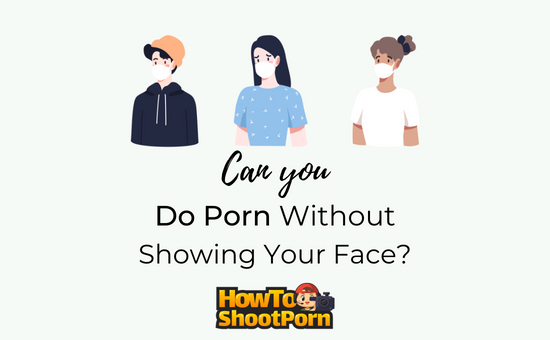 The good news is that many creators on OnlyFans or similar platforms never show their faces and still can grow! In fact, this is a very common strategy that many people use for online sex work to maintain their privacy.
Can you make money on OnlyFans account without showing your face?
The short answer is: YES! You can definitely run an OnlyFans account and make money on the platform without ever needing to show your face. There are plenty of creators who do exactly that.
You will be required to verify yourself with your face and a valid photo ID when you create an account, but that information will be totally private and will never be shown to your subscribers on OnlyFans.
Will people know who I am if I don't show my face?
This is a little more difficult to answer. It really depends on how easily identifiable you are. For example: if you have tattoos, then people might be able to figure out who you are based on the tattoo and where it's located on your body.
If you're going to post sexual content online, you should always be ready for the possibility that someone will be able to identify you, but you can always do things to lower the chances that this will happen.
While you can never be 100% sure you won't be identified when posting content online, there are plenty of things you can do to minimize the chances of it happening.
How can I hide my identity with an OnlyFans?
Here are some things you can do to prevent your real identity from being connected to your IRL (in real life) identity:
If you have tattoos or birthmarks, cover them with band-aids or tape. You can also film at an angle where they are not visible.
Crop your face out of any photos or videos you post online. Only show you body.
Do not film anywhere that might give people information about where you're from.
Come up with some fake facts about yourself to tell subscribers. For example: if you're 22 years old, say you're 21 or 24 instead. You don't need to totally lie, but make some small adjustments.
Choose a totally fresh username that you've never used online before and make new social media accounts with that username. Do NOT use your personal Instagram or TikTok account to promote your OnlyFans.
How to promote your OnlyFans without showing your face?
Promoting a no-face, anonymous OnlyFans account is the same as promoting an account where you do show your face. You just need to be sure to follow all of the rules above to ensure that you maintain your privacy.
Use social media accounts
Social media marketing is essential for growing an OnlyFans profile as an adult creator. Social media thirst traps are how people discover new adult models (and this type of content often gets pushed by algorithms because of all the engagement it generates!)
Ideally, you want to use social media to tease viewers, making them so eager to see more that they'll be willing to pay for a subscription to your profile (and also for some PPV content once they're in!)
Post on relevant subreddits
Reddit is a very popular platform for NSFW content discovery. Figure out which subreddits are relevant to the type of content you're creating and post regularly to those subreddits. Many adult content creators on reddit are anonymous and don't show their faces.
You can even become a verified poster on certain NSFW subreddits without showing your face at all!
We also have a full article that teaches you how to grow your following using reddit.
Live stream on cam modeling sites
Web cam modeling can be a great way to promote yourself early on when you're new to adult content creation.
Most cam sites will even give you an additional boost as a new user and promote you on their front page during your first couple weeks after registration. Take advantage of this!
Many adult cam models use masks to hide their face or only focus the camera on their body below the neck.
If you're new to web cam modeling, check out our complete live camming guide.
Post videos on Instagram and TikTok
Short form video is one of the best ways to grow a fanbase as an adult content creator. The TikTok algorithm revolutionized how short video content gets pushed with the "For You" page.
Since then, other social media platforms like Instagram and YouTube now have short form video features (Reels and Shorts) which get pushed better than normal feed posts or videos.
You can record short form videos that follow trends or just show off your body in a creative way. Be sure to cover any tattoos or other identifying marks if you want to stay anonymous. You can crop the video at your neck so your face isn't visible or wear a mask.
What about other websites or apps?
One of the benefits of a subscription site like OnlyFans or Fansly is that people can't actually see your private content without subscribing, so the content remains hidden for the majority of people. This is good for your privacy.
Other porn sites like PornHub, XVideos or ManyVids, where the content is publicly visible will be more difficult to hide your identity on.
However, you can still run accounts on these websites while maintaining some privacy. Even some huge amateur porn couples like LeoLulu hide their faces.
If you decide to post vides on these type of websites, then you should probably crop your face out of the video or mask your face with a blur or black box to prevent people from identifying you. Always double-check your videos before posting to make sure there's no information that would let people identify you!