Are you interested in becoming a live cam model and earning money by live streaming from home? Cam modeling is a great way to make money and build a following online.
Follow the guide below and you can start making money online very quickly just by sitting in front of your computer and turning on your web cam!
What Is a Cam Model?
A cam model, cam girl, or cam boy is someone who makes money by live streaming and performing by stripping, dancing, teasing, and chatting with viewers on a camming website. Viewers can tip and provide donations for different acts or just to show support to the cam model.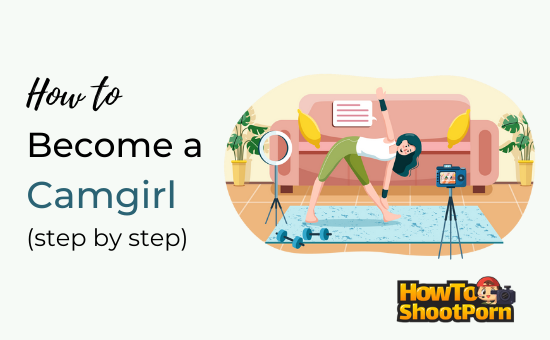 Being a cam model may seem like easy money, but just like other jobs, it takes time and effort to build a following and compete with other models on big cam sites. If you are a very sexual person, a bit of an exhibitionist or like interacting with people, then live camming might be a very good job for you!
With adult camming, you get to express your sexuality and be the center of attention! Live camming can also be quite a rush when you go live and start seeing the tips roll in! Even very casual cam models can make some good side income with adult cam sites.
Do I have to show my face as a cam model?
Showing your face is optional! Some cam models choose to just show their body from the neck down and others even wear a face mask when doing their cam shows. You can still maintain your privacy and anonymity while performing live on cam.
If you have tattoos, scars, or other identifying information on your body, you may want to cover them up if you want to be more anonymous while streaming on cam sites.
I'm a guy, can I still be a cam model?
Yes, of course! There is a market for pretty much everything in the world of porn. There are plenty of male cam models who make good money.
In fact, I'm a pretty average looking guy and I've periodically done solo live camming for fun and to test out different platforms and even I was able to make some money! So, if you're dedicated and put in the work, there's no reason you can't build a big audience as a cam boy!
Can I make good money as a live cam model?
Yes! Live camming has always been one of the best ways to make money in the adult industry. People are usually willing to pay more for the level of personal service and real-time interaction they get when watching a girl on a live stream.
That being said, building a following and making a stable monthly income will take time and consistency. Don't expect to sign up for a cam site and instantly be #1 on the rankings or pulling in thousands of dollars overnight. Top cam girls are often online every day performing for and entertaining their loyal fans.
How do cam models make money?
If you've never tried camming before (as a viewer or performer), then you might not understand why people would pay money when there's so much free porn on the internet.
While it's true that there is plenty of free porn online, live camming is still extremely lucrative! With live camming, people are paying for a more personal experience and they're also paying to experience the show in real-time. They enjoy the feeling of being able to influence the cam model by paying money.
You could think of live camming as the difference between going to a concert (live camming) and listening to music at home (watching porn).
There are two different "styles" of live cam shows you can do: freemium and private.
Freemium shows
Freemium shows are public live cam shows. Anyone can join the stream (even guests) and registered users can chat or give you tips in the form of tokens.
Freemium shows require models to be a bit more creative with how they structure the show in order to entice viewers to pay tips.
Get those tips!
One of the main ways cam models make money is by live streaming free, public shows and earning tips from their viewers. Most cam sites have built-in tools that make it easier to generate tips. For example: it's very common for models to have a "tip menu" where viewers can send them tokens in exchange for showing them something special (like blowing a kiss, or taking off a piece of clothing).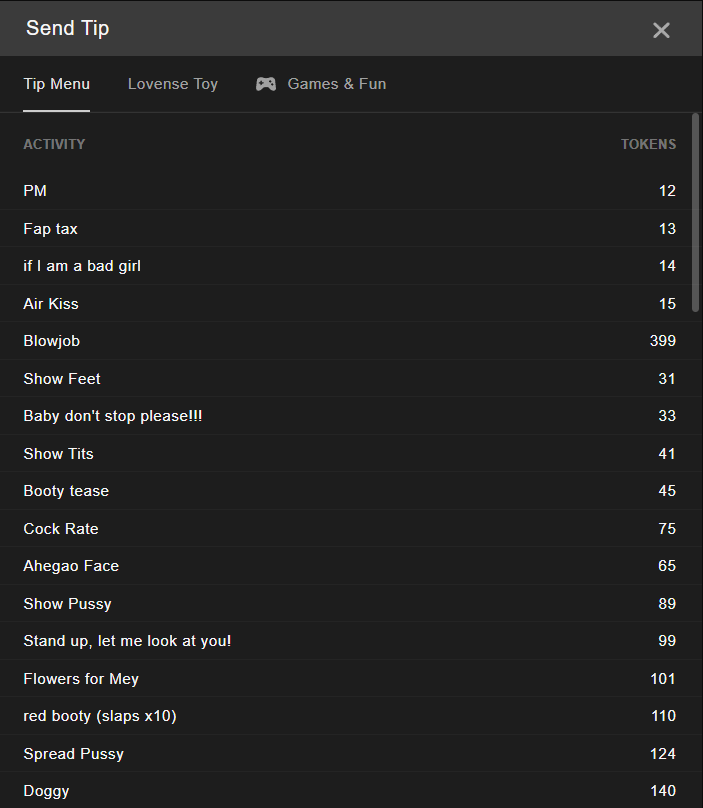 Lovense
The Lovense Lush is a popular remote controlled vibrator that can connect with most live camming websites. If you have your Lovense connected, you can let viewers control it for differnet lengths of time and at different levels of intensity by paying tips.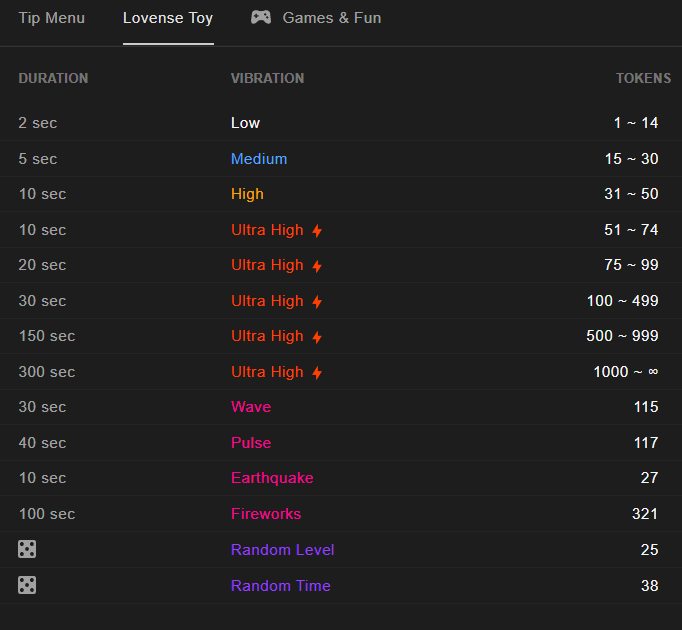 If you are a natural performer and love being the center of attention, then live camming could be a perfect job for you!
Private shows
The other way to make money with live camming is through private shows. In these types of shows, people have to pay a set amount of tokens every single minute that they watch the private show. This means it's much more lucrative per minute and also means that there is less dull time where nothing is happening.
However, if people are paying for a private show then they're going to expect to get their money's worth. So, you should always be giving them something special that they want to see. It's a good idea to start with a freemium show and explain what you're going to do in private to get viewers interested to join.
Choosing a Live Cam Service
There are many different live cam platforms to choose from. Different platforms have different pros and cons, so it's important to know what your options are.
If you just want the tl;dr answer: I'd recommend starting with Chaturbate. They are the biggest live camming site in the world and offer good payouts.
However, there are plenty of good options, so check the list below if you want to know more about the different live cam platforms you can choose from.
StripChat
StripChat is a great platform for new models who are looking to get started and make some quick money right away with live camming.
You can keep up to 60% of revenue you generate on the platform (a very decent percentage in live camming!) and the killer feature is that new models will get a special boost for 2 weeks. This is very important since live camming is very competitive. It can be hard to go up against established models and make a name for yourself.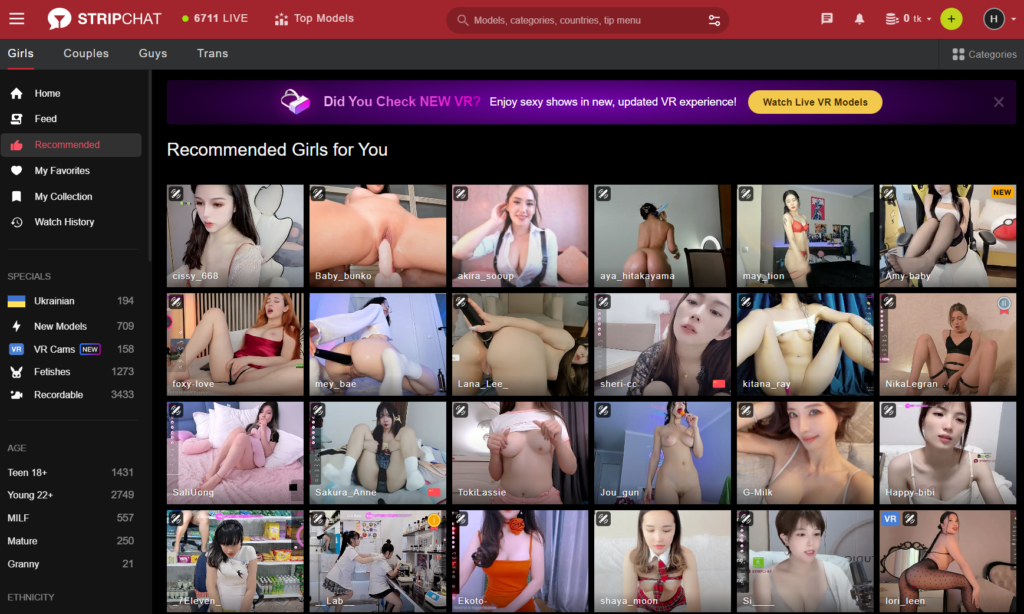 To get the most out of StripChat, you'll want to know how to give good freemium shows to your viewers. The website offers standard features for freemium performers to make money like a Tip Menu and Lovense compatability. If you're good at getting viewers to tip in public freemium shows, you'll probably be able to make a lot of money on StripChat!
One thing that many people don't know is that StripChat is the official live camming partner of the famous porn site XHamster. So, when you stream, StripChat will broadcast you both on their own website and also on XhamsterLive.com so you can get even more traffic.
We definitely recommend StripChat for web cam models who are just starting out and want to make some quick cash while learning more about the live cam business.
Click here to sign-up for StripChat
BongaCams
BongaCams is a massively popular live cam site with tons of users. No matter what type of model you are, there are guaranteed to be people who will shower you with tokens when you stream on BongaCams.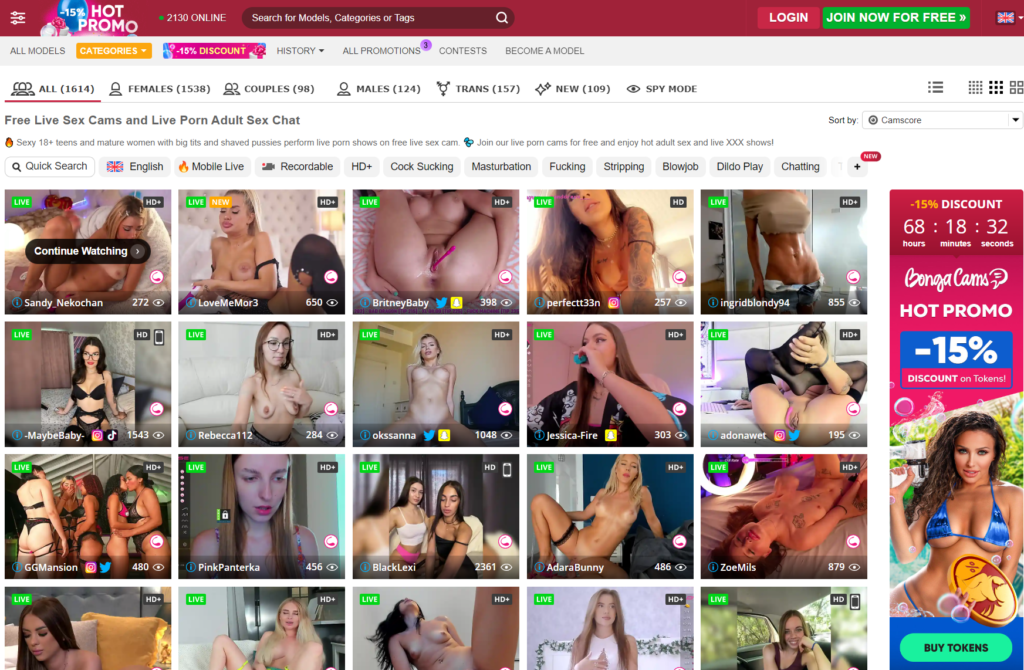 BongaCams gives a 50% revenue share to their models. As with most cam sites, models will make most of their money through tips while doing live public shows.
The good news is that BongaCams includes lots of features to make it easier to earn tips like a wheel of fortune game where people can tip a random amount to have a special request performed by the model.
One nice feature of BongaCams is that for established models, they have on-request payouts, meaning you can withdraw they money you earn whenever you want!
BongaCams also offers a wide variety of payout methods including Paxum, Wire Transfer and even Cryptocurrencies like Bitcoin, Ethereum, Litecoin and USDT!
Start making money on BongaCams today
Chaturbate
As mentioned above: Chaturbate is the biggest adult camming site in the world right now! So, if you want to pull a lot of viewers, then this is the place to go!
Personally, I think Chaturbate is one of the best platforms to start with due to all the traffic it has. You'll be sure to find plenty of viewers who are into you!
They offer 50% revenue share for models (pretty good for a live cam site) and have a huge range of payment options including: Paxum, Skrill, Wire Transfer, Crypto and more.
However, there are a few downsides to Chaturbate. Out of the big name camsites, Chaturbate probably has the most "old-school" user interface and their tools can be a bit challenging to configure. For example, there are many "bots" and "scripts" that you can install onto your chat to let viewers play games or see your tip menu. However, for new users, the interface might make setting up these tools a bit challenging compared to other cam sites.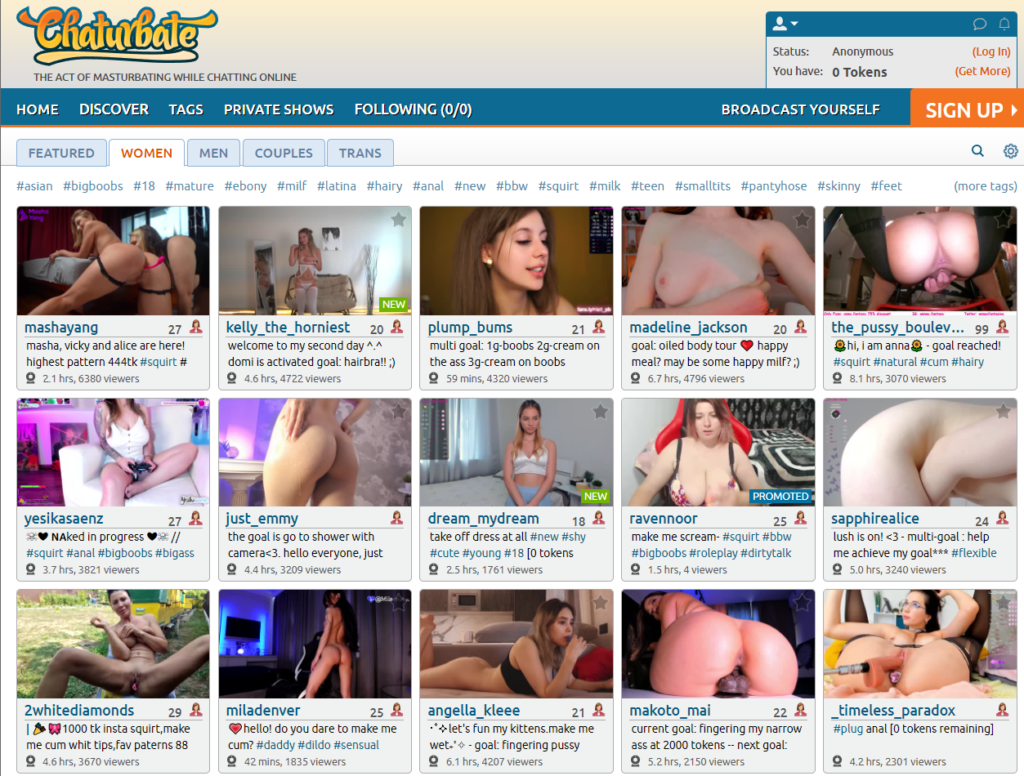 But don't let that discourage you, once you get familiar with their platform, Chaturbate can be a great site for earning money as a cam model!
If you want to jump right in to the biggest adult streaming platform, then definitely check out Chaturbate. Once you learn how it works, you can start earning money very quickly.
Click here to create your Chaturbate account and start earning!
OnlyFans
Even though it's not a true live camming platform, OnlyFans does has a live streaming feature. This is a good option for models who are already on OnlyFans and have built a loyal group of subscribers.
Before you go live on OnlyFans, you can set a tip goal and an entry fee for people to access the live stream.
Live camming on OnlyFans also lets you maintain some degree of privacy because, unlike other live cam websites, you can specifically choose who will be able to view the live stream before it goes online.
Signing Up and Choosing a Username
Once you've picked a cam site to use, you'll need to register and create a username. If you already have a following on other social media platforms or subscription sites like OnlyFans, you can use the same username on the cam site. This makes it easier for people who already follow you to find your cam girl profile. If you want to be more anonymous, then you can choose a completely new and unique username for your cam girl persona.
Getting Verified as a Cam Girl
After you create your account, you'll need to get verified. Usually, this process involves submitting a photo of your passport or other ID such as a driver's license along with a clear face photo to verify your identity and prove that you are of legal age.
Setting Up Your Live Camming Studio
You'll need some things before you start on your camming journey, but the good news is that you probably already have most of the things you need to start camming!
What equipment do you need for live camming?
There are some pieces of equipment you'll need to get started with live camming:
A computer
A webcam or other camera
Lighting setup
Can I use my phone for live camming?
While some cam sites like Chaturbate allow streaming with your smartphone, this is not really recommended. Streaming from a computer is going to offer much more stability and better video quality. It's much better to have a larger screen so you can monitor the chat and make sure your video feed looks good as well.
Which computers are good for live camming?
You don't need a very cutting-edge or expensive computer to start live camming. Most laptops will be good enough. Just make sure you have at least 2.4 GHz of processing power, preferably with a dual-core or quad-core processor, and at least 4gb of RAM. You'll also want a pretty big hard drive. Anything with 500gb of space or more should be fine.
While not totally necessary, you will probably want a wireless keyboard and a wireless mouse (or trackpad). This will help you chat with viewers while you're streaming since you'll often be positioned away from your computer while you're live. It will also be much easier to move around your room without needing to worry about wires restricting you.
What is the best webcam for live camming?
The Logitech C920 is the most famous webcam for web cam models. It can stream Full HD 1080p video, has a built-in microphone and is even compatible with tripods (an important feature if you want to get the best angle for your live camming).
You will generally want to avoid your laptop's built-in webcam as they do not produce a clear image and perform poorly in low light.
If you really want to go super high quality, you can even use a professional DSLR or mirrorless camera with a wide angle lens and stream using that. Note: you will need an additional piece of gear called a "capture card" if you want to go this route.
Many live cam websites will also let performers live stream with their smartphones. If you have a recent phone like the iPhone 12 Pro Max, then this can be a great choice and a way to save money on gear.
What is the best light for live camming?
The easiest lighting solution for a cam girl is a basic ring light. These have become really popular with TikTok creators recently, so you may already have one. If you have a tripod-compatible webcam, you can even attach your webcam directly to the ring light for the most flattering light on your face.
If you are serious about your live camming career, then I highly recommend investing in a 3-point lighting kit. This will be the most complete lighting setup for cam models.
A simple configuration of a 3-point lighting kit for live camming is to one light on your left, one light on your right and one directly in front of you. This ensures that you are perfectly lit and the image from your webcam is going to look very good.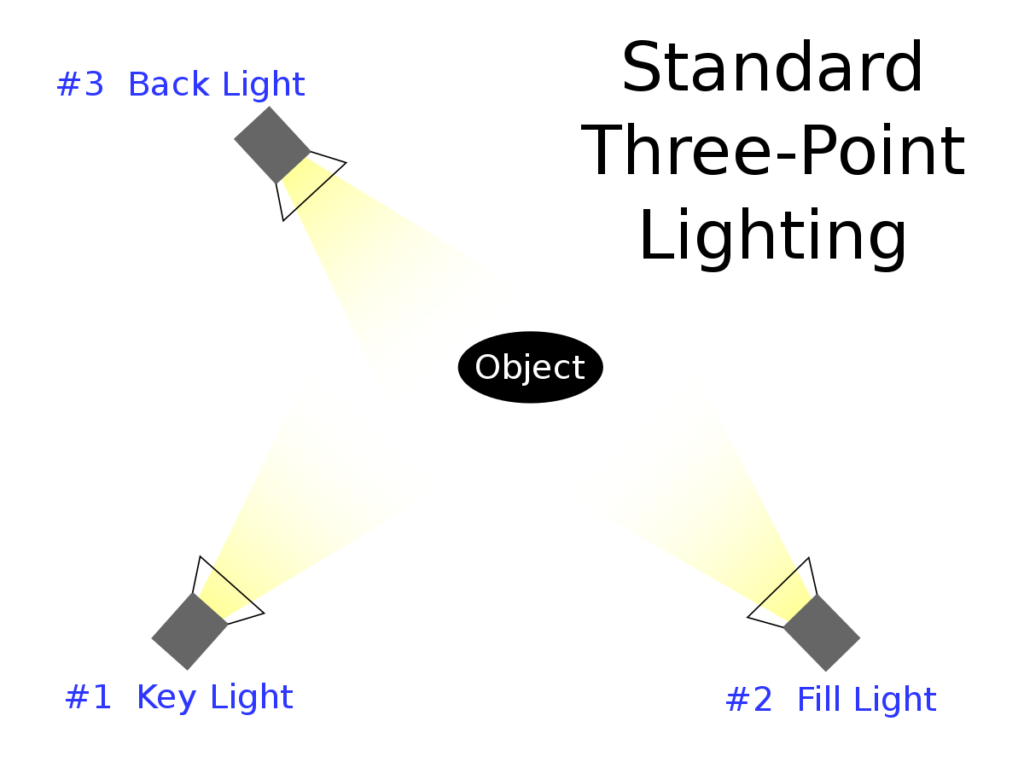 If you are having issues buying or setting up your lighting, you can also use natural light during the day time while you cam. Simply position yourself near a big window during afternoon when things are very bright. This is also a simple way to light your room while camming.
Do I need a good internet connection for live camming?
Yes! Internet connection is very important for doing live cam modeling. You will generally want upload speeds of at least 2Mbps.
You can easily test your internet connection speed using https://www.speedtest.net You may also want to test your internet speed at different times of day because certain times may be better or worse than others.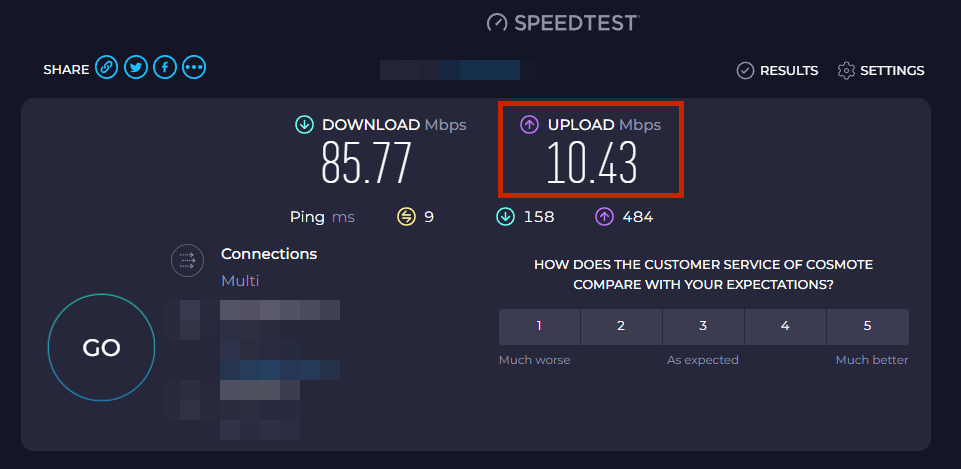 Most cam websites will allow you to stream over WiFi, but having a wired ethernet connection is more stable and will also improve your speeds.
What streaming software should I use for live camming?
The most popular streaming software is OBS (Open Broadcasting Software). It's totally free and this is what most cam models are using to live stream.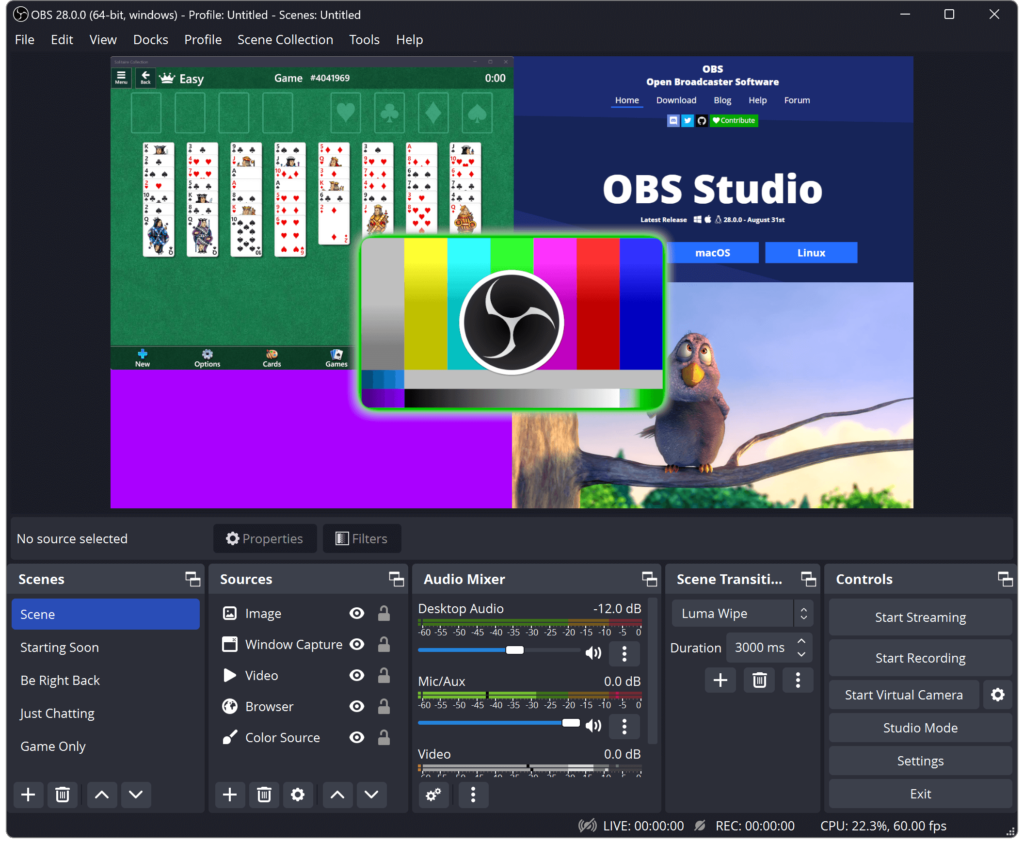 Do I need toys or props for live camming?
You don't need toys or extra props to start live camming. There is plenty of money to be made just streaming by yourself without any bells and whistles.
However, toys, costumes, wigs, and other props can be a great way to spice up your streams and also give viewers a different way to interact with you. For example: the Lovense Lush vibrator would allow viewers to tip to control the vibration. Lots of cam viewers love the experience of controlling a model's vibrator.
If you are regularly streaming for long periods of time, you may get bored or run out of ideas for things to do on stream. In this case, having some extra costumes or toys would allow you to easily make new content for your viewers and keep them engaged.
How to plan your shows
Once you sign-up for a cam site, your account will be tagged as "new" for a period of time after you register. Every site is different, so you'll have to check how the "new" tag works on the platform you've chosen.
Making use of the new model tag
When you stream while your account is tagged as "new", you'll be featured on the front page. This is a great way to get exposure and build an audience. You want or be streaming as much as possible while your account is tagged as new because you want to maximize the amount of free promotion you can get. Even if you can't sustain the schedule, try to be live as much as possible in the first few days or weeks you're on a new cam site.
Once your account is not tagged as "new" anymore, the only way to consistently get featured on the front page is by having a high model score or by being a top earner on the platform. This means that you want to really take advantage of the "new" tag and use the free promotion period as a time to build your initial audience and experiment to learn the skills of live camming.
Study other models
You can learn a lot about how to stream by watching other models on whichever platform you choose. Spend some time watching other cam models and pay attention to what they're doing while they're live. How do they tease viewers into tipping or taking them into private shows? What are they wearing? How much are they showing in their public shows? Are they using toys? These are all things you should be paying attention to.
The models with high scores on your camming platform will usually have a very profitable routine down. They know what they're doing, so learn as much as you can from them!
How To Get More Followers As a Cam Model
Consistency is one of the best ways to get more followers as a live cam model. If you want to grow your following, one of the best things to do is set a schedule and stick to it! If you go live at the same time every day or every other day, then your fans will know when to expect you and you'll have a bigger group of viewers in your chat room when you're live.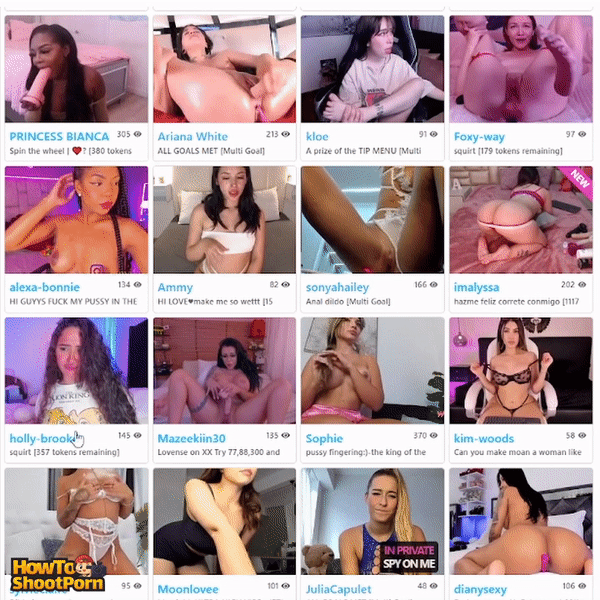 When you have more people watching and chatting, your rank will go up on the cam site and you have a better chance of getting promoted. Some cam sites like StripChat even offer a boost for newly registered models to help you build a following in your first couple weeks on the platform.
Use social media
You can also promote your live cam profile on other social media like SnapChat, Twitter, or Instagram before you go live. Tell your followers when you will be live with a link to your profile so they know when and where to join.
You can use your existing social media profiles if you already have a lot of followers, or you can make totally new social media accounts if you want to separate your cam persona from your personal life.
How to become a top web cam model?
Go live regularly, make a schedule and stick to it, create a connection with your audience members, don't be afraid to try new things or experiment, and learn from other established models in the industry.
Web cam modeling is a very competitive industry. It will take hard work and dedication to become a top cam model, but it's definitely doable.
One of the biggest mistakes web cam models make is that they give up too soon. Even if you're not as physically attractive as other models, if you just stay consistent and stick to live camming, you'll outperform most other models over a long period of time.
Privacy and safety for cam models
If you're new to live camming, you might be wondering how safe it is for models to do this and what the potential downsides are.
Is live camming safe?
The short answer is: yes, live camming is safe, as long as you use a reputable site (like the ones listed above) and you follow the basic advice below so you can protect your identity and maintain your privacy during your live cam career.
How to maintain privacy as a cam model?
You want to be sure to use separate social media accounts for your personal life and your cam modeling persona. In fact, it's probably a good idea to make a separate email and have a separate phone number (if possible).
ProtonMail is a great privacy-focused email service that is totally free. Burner offers secondary phone numbers for calls and SMS.
Make sure not to have any objects in the background of your cam space that could identify you personally. Be sure to pull curtains closed on any windows that are visible from your cam space as well. You don't want the outside of your home to be visible to anyone watching your streams. Ideally you pick a separate room just for camming and decorate with nondescript items that cannot be linked back to you.
Try to keep your cam life and your personal life totally separate. Do not share any photos, videos, or information about your personal life during your cam shows (or on your cam social media) and be very careful about sharing any info about your cam modeling with people in your personal life.
Dealing with piracy as a cam model
Piracy is something that all people in the porn industry will deal with once they've started to build a following, and live camming is no different.
Your live streams will be stolen and redistributed on piracy sites, so be prepared for this. One of the best ways to deal with it is to just view it as free advertising. You can even make the advertising angle more effective by being sure to prominently display your username or logo somewhere on your live video (you can easily do this by adding a text or graphic element in OBS or similar software).