Ah yes, Porn Hub! This website needs no introduction. If you're reading this article, you've probably been on "The Hub" many times. Since its creation in 2007, PornHub has gone on to become one of the biggest websites in the entire world.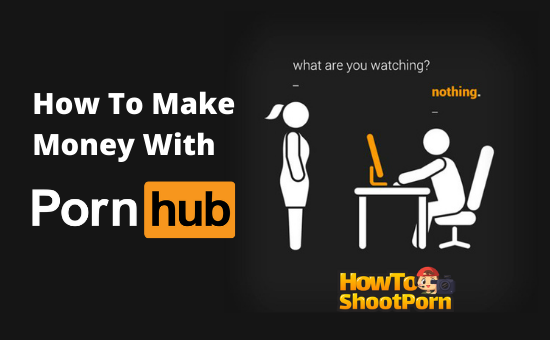 Similar to YouTube, PornHub has a monetization program for its creators. That means if you upload videos, you'll get paid a small amount of money every time your video is viewed.
Many famous amateur couples got their start on "The Hub" and you can too!
Get Verified
In December 2020, PornHub removed all videos posted by unverified accounts. This removed over 9 million videos from the website. Since then, only verified accounts can upload videos to the platform.
The first step to getting paid on PornHub is getting a verified account. Fortunately, this process is quite simple. You just need to fill out a form, upload a copy of your ID (passport, driver's license, etc.), and wait for PornHub to approve the application.
If you have a co-performer (or multiple co-performers), then you will also need to upload government issued IDs for those people as well. This process is very straightforward and can be done through PornHub's model dashboard.
Start Creating Content
You can't get paid without content, so you'll want to create some sexy videos. We have a full guide on how to shoot good homemade porn, so definitely go check that out.
If you're interested in buying new gear to shoot porn, we have an extensive articles on the best cameras for any budget.
What types of videos should I post on PornHub?
As of 2023, PornHub is largely dominated by couples posting amateur sex content. They're often using PornHub to promote an OnlyFans or other subscription service.
However, there are plenty of solo content creators (and even some people posting non-nude or even worksafe content there!) One of the best ways to succeed in porn is to create niche content and cater to a unique fetish or fantasy.
If you're selling premium content somewhere, it's a good idea to use PornHub for shorter clips from your full videos as a way to get people interested in the full, uncut paid content.
How long should my PornHub videos be?
Generally, you want to post videos that are at least 10 minutes in length as these will have a higher chance of being featured on the homepage and that's exactly what you want to drive the view count up.
How often should I post on PornHub?
If you can manage it, a good frequency for PornHub (and other adult tube sites) is one new video per week. If you can keep up with this pace, your account should grow very quickly.
The most important thing is to just keep posting regularly. The biggest PornHub accounts are often the ones that just didn't give up and kept shooting and posting new content.
Get Paid With Ad Revenue
PornHub will pay its creators a percentage of the ad revenue generated for each verified video.
PornHub sometimes changes how much they pay in ad revenue, but in 2020 the average rate per 1000 views was $0.604. This means that for every 100,000 views you get, you can expect to earn around $60. Though, the exact amount will depend on your specific video.
While this may not seem like much money, if you post regularly and keep growing your account, then PornHub ad revenue can be a nice source of extra cash.
Monetize Off-Site
Unfortunately, at the time of writing, PornHub still has payments disabled meaning that creators can not sell their full-length videos on PornHub for the time being.
This means that if you want to earn more, you'll have to get your viewers and fans to buy your content on other websites.
There are many different platforms you can choose from to start earning money off of PornHub.
Live Cam Sites
Live camming has always been one of the most profitable niches in porn. People love to engage with the cam stars in real-time and have the exclusivity of getting a private show. There are many choices of live cam sites to make money with, but some of the top choices are StripChat, Chaturbate, and BongaCams.
You can also record your live cam performances will you're streaming and then cut and edit them to upload on your PornHub account. This allows you to promote your content on two platforms simultaneously.
OnlyFans and Subscription Services
This is what most adult content creators are doing now: they use PornHub and similar tube sites to market themselves and then send people to OnlyFans for subscription memberships and selling full videos.
If you're interested in doing this, check out our article on how to get started on OnlyFans.
Your Own Website
This is the most challenging and time-consuming option, but it also gives you the most control. Building your own porn site means that you can post the content you want to post (as long as it's legal, of course!) and charge whatever you want as a subscription fee. You can also decide exactly how the site looks.