One of the most challenging things about marketing yourself as a sex worker or pornstar is that most social media platforms don't allow adult content.
If you're running an OnlyFans or other paid subscription service as an adult model, then you'll need to promote yourself somewhere online to send traffic to your subscription site.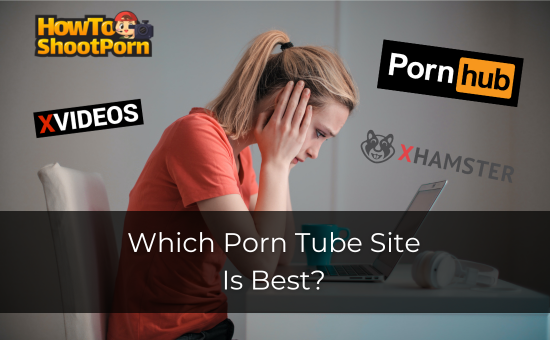 While many OnlyFans girls are using the typical social media apps, I would recommend giving porn tube sites a try as a way of marketing your content.
Why "normal" social media sites are bad for sex workers
If you're using Instagram as an adult content creator, then you're probably familiar with this notification: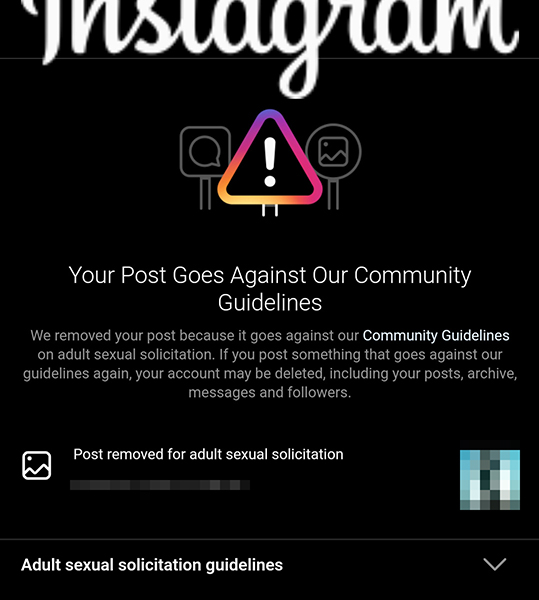 Twitter / X is currently the only large, mainstream social media platform that allows porn.
There are creative ways to work around the limitations on Instagram or TikTok, but in some cases, you may just want to promote your content directly without having to worry about your account getting banned or your posts getting removed.
Using porn tube sites to promote yourself
Porn tube sites are a good alternative to social media for promoting yourself as a sex worker. You don't need to worry about getting banned for nudity or "sexual solicitation" and when people are browsing porn sites, they're already horny and in the mood, meaning it can be easy to get them to pull the trigger on a subscription or PPV content.
Do I need to post nudity or sexual content on porn tubes?
Some creators think that they have to be nude or doing some kind of sexual act to post videos on porn tube sites. This actually isn't the case. You could easily just post videos that tease viewers. Some of my best performing PornHub videos were ones that didn't show nudity at all (go figure).
However, you should keep in mind that when people are browsing for porn, they're used to seeing everything, so it can be a good idea to share explicit content sometimes.
Which porn tube sites should I use?
There are a few different popular adult tube sites. They all have pros and cons, so we're going to discuss each one below.
PornHub
PornHub is the biggest adult website in the world. They're basically a household name at this point. It's the site everyone browsers but no one talks about.
PornHub has been facing numerous problems with credit card processing over the past few years, which means that they had to crack down on their rules and be a bit more strict on the type of content that gets posted. Only verified models are allowed to upload videos now and if you're posting content with multiple performers, all additional performers must also be verified.
It seems that PornHub is one of the best sites for couples who can regularly produce content together. It seems that PornHub viewers are expecting homemade, amateur content from real couples when they browse PornHub, so if you're a couple, then this is a great choice.
One of the downsides of PornHub is that, because it's such the biggest platform, it's also very competitive. So, your average view count for each video may not be as high as it could be on other tubes.
If you want to start growing an audience on PornHub, we have a full article on how to do that!
XVideos
XVideos is the second largest tube site and a major player in the porn industry. They are PornHub's main competitor and are a great platform for promoting yourself.
The main thing I noticed about XVideos is that my videos got significantly more traffic than the same videos posted to PornHub.
And I don't just mean a few hundred views, I'm talking 10-15x the view counts I would get on PornHub! So, if you want better reach, XVideos is a great platform to start with.
If you're a solo creator or a studio / production company, then I would recommend XVideos over PornHub. While PornHub may be the better choice for couples, XVideos is preferable for other types of adult creators.
XHamster
XHamster is smaller than PornHub or XVideos in terms of site traffic, but it has a very dedicated community of amateur content creators.
XHamster also has a built in dating feature where you can browse for people based on criteria like location, age, gender, sexual orientation etc.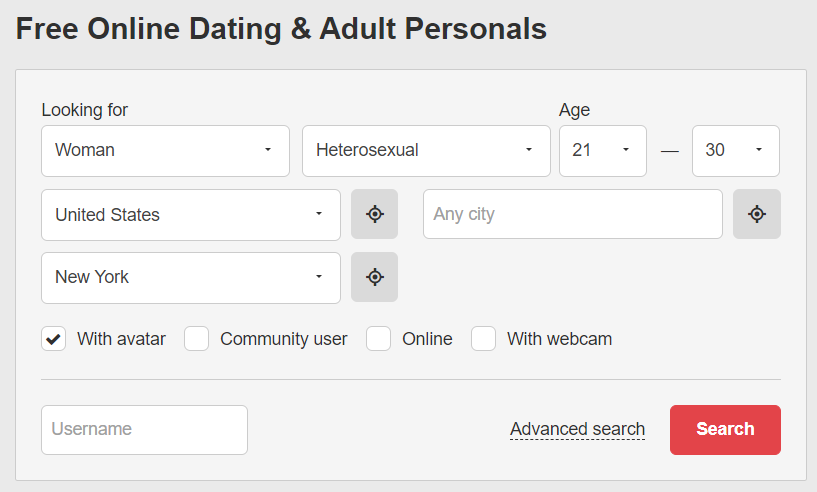 One thing I noticed when I was posting regularly on XHamster was how supportive other creators were. I would often get positive comments from other amateur creators who were clearly just enjoying the videos I made. Some even invited me to see some of their private videos.
Unfortunately, I didn't notice great reach on XHamster. My videos would get views and some of those viewers would convert into paying subscribers, but the traffic just wasn't as good as what I was seeing on XVideos or even PornHub.
I would still recommend giving XHamster a try though, even if it's just to see the cool community of people on there. Also, give the dating feature a try! I was able to other creators using that. It was pretty cool.