OnlyFans is the king of subscription platforms. It's basically a household name at this point! There are lots of models earning small fortunes just by selling exclusive content to their paying subscribers.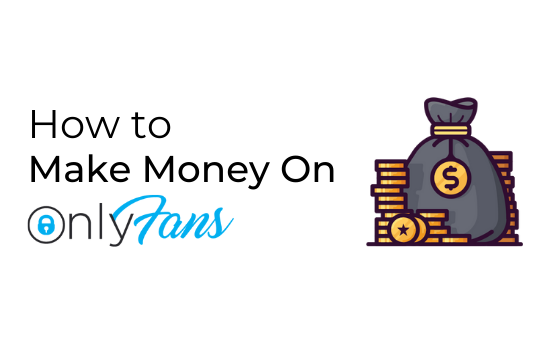 There's no doubt that OnlyFans and similar platforms are going to become even more mainstream in the next few years. In this guide, we'll teach you everything you need to know to get started making money as a content creator on OnlyFans.
What is OnlyFans?
OnlyFans is a social network that allows creators to earn money by charging a fee for people to subscribe to their profiles. Creators can share photos, videos, livestream and chat with their subscribers via DMs. The features are similar to an app like Instagram, but with profiles usually being locked by default and require a monthly payment to access.
OnlyFans has seen a lot of publicity in the past couple of years due to its association with porn, sex work, and the presence of mainstream celebrities on the platform.
Who can make money on OnlyFans?
Many people assume that to make an OnlyFans account, you need to be a pornstar or post sexually explicit content in order to earn good money. The good news is that you don't need to make porn to make money with OnlyFans (even though this IS the How To Shoot Porn blog and I hope I can encourage some girls to show off their wild side online!)
In fact, OnlyFans tends to promote mainstream content creators on their official blog and social media profiles.
Can men make money on OnlyFans?
Yes! You can definitely make money as a guy on OnlyFans. In fact, if you can carve out a specific niche for yourself as a male creator, then there is lots of money to be made on OnlyFans.
It's true that OnlyFans will be more plug-and-play for female content creators, while men will generally have to work harder to grow their initial following.
Also, keep in mind that OnlyFans is just a subscription membership service. Your content doesn't have to be sexual. You could provide tutorials or work safe content that teaches people a skill or helps them with some area of their life like business or fitness.
So, no, you don't have to be a girl to be successful on OnlyFans, you just have to be willing to put in some work and be creative!
Do I need to get naked or have sex to do OnlyFans?
No, not at all! Anyone can do OnlyFans; it's not just for sex workers.
While it's true that people often expect "spicy" content on OnlyFans, you can actually sell anything you want. Just think of it as a subscription platform where people can pay to get access to exclusive content they can't see anywhere else.
This could be tutorials, Q&A sessions, unedited or unreleased podcast episodes, behind-the-scenes footage, or anything else that might be appealing to your audience!
Should I use OnlyFans or another site?
There are many options for building an adult membership subscription business. OnlyFans is currently the most mainstream choice. One main advantage of using OnlyFans is that many customers already have their credit cards linked to OnlyFans, so it's easy for them to one-click subscribe to your account. If you use an alternate platform, people may need to sign up again and enter their card information, which takes time and can be annoying.
One good idea is to create a "backup" or mirror account on a site like Fansly. Keep your OnlyFans as your main subscription profile, but post all the same content to Fansly so that if OnlyFans bans adult content again, you can easily just switch over to Fansly or a similar platform. You will likely get some subscriptions on your backup account, anyway from people who don't want to use OnlyFans or like other platforms better.
If you don't plan on posting sexually explicit content (masturbation, full sex, etc.) then you could use a platform like Patreon for your membership subscription service.
Getting started
In order to start making money with OnlyFans, the first thing you need to do is create a profile. This is very simple and easy to do.
Start by going to the OnlyFans homepage.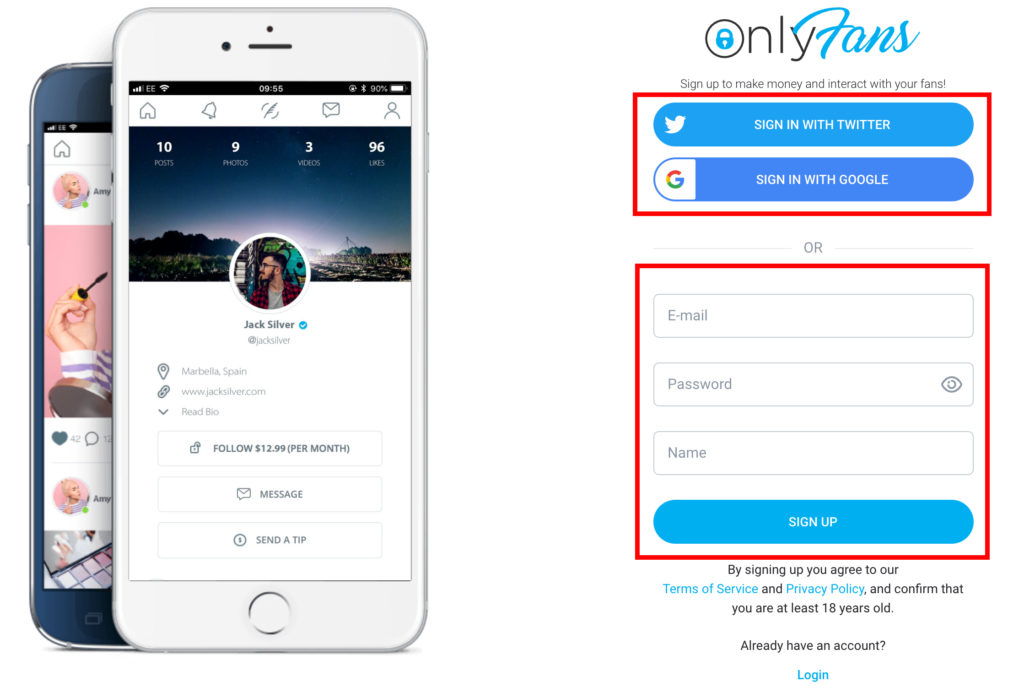 You can either sign up using Twitter or Google with the buttons on top or sign up by using an email address and creating a password.
If you are planning to post porn, nudity, or sexually explicit content, you may want to use a fake name or pick a pornstar name before signing up to protect yourself and maintain your privacy.
Once you've signed up, you will be redirected to the OnlyFans dashboard where you'll see a message about verifying your email. Go ahead and click the button to go into your settings.

On the account settings page, make sure your email address is correct and hit the button to send yourself a confirmation email to get your email verified.

After pressing the "send confirmation" button, you will receive an email with a link you can click to confirm your account. Go to your inbox and click this link to finish creating your OnlyFans account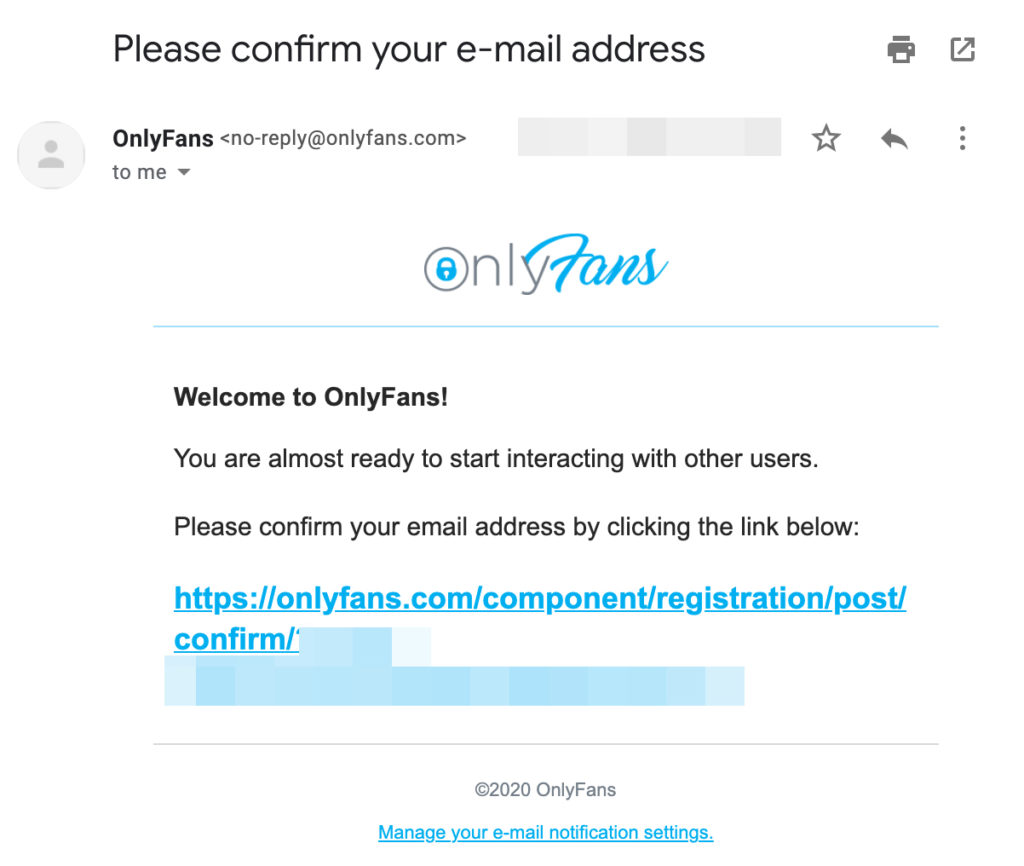 Congratulations! You've just finished creating your OnlyFans profile.
Getting verified
Once you've created your OnlyFans account and confirmed your email, you'll need to get verified so you can link a bank account and start earning money. This is the most annoying and difficult step to get started with OnlyFans. Some people are able to easily get verified on their first try while others may get rejected several times before they are finally approved.
First, go to the sidebar and click on "more" to open up the menu.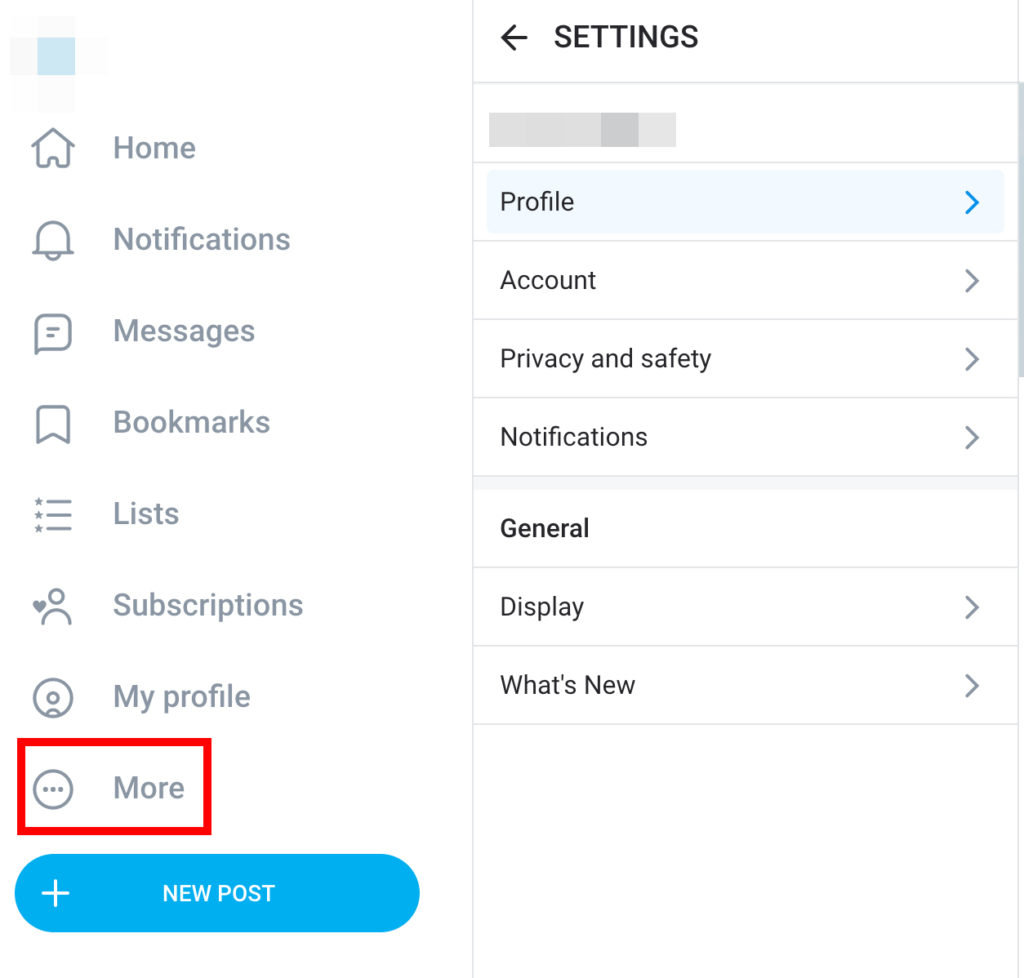 Then click on "Add bank (to earn)" to begin the verification process.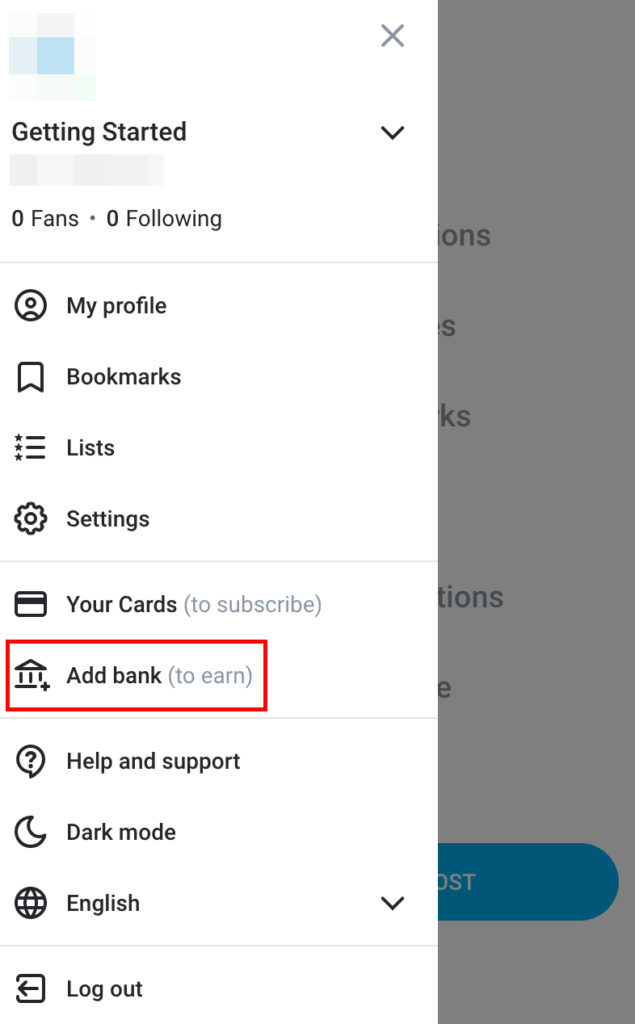 You will then be asked to enter your country of legal residence. You must choose the country where you actually live! Double check and make sure you've selected the correct country, because you cannot change this and if you select the wrong country, it can cause problems later when you try to withdraw money.

Choose your country from the dropdown menu and tick the box confirming that you are over 18 years of age.
This will take you to the page where you will be asked for some basic info before identity verification.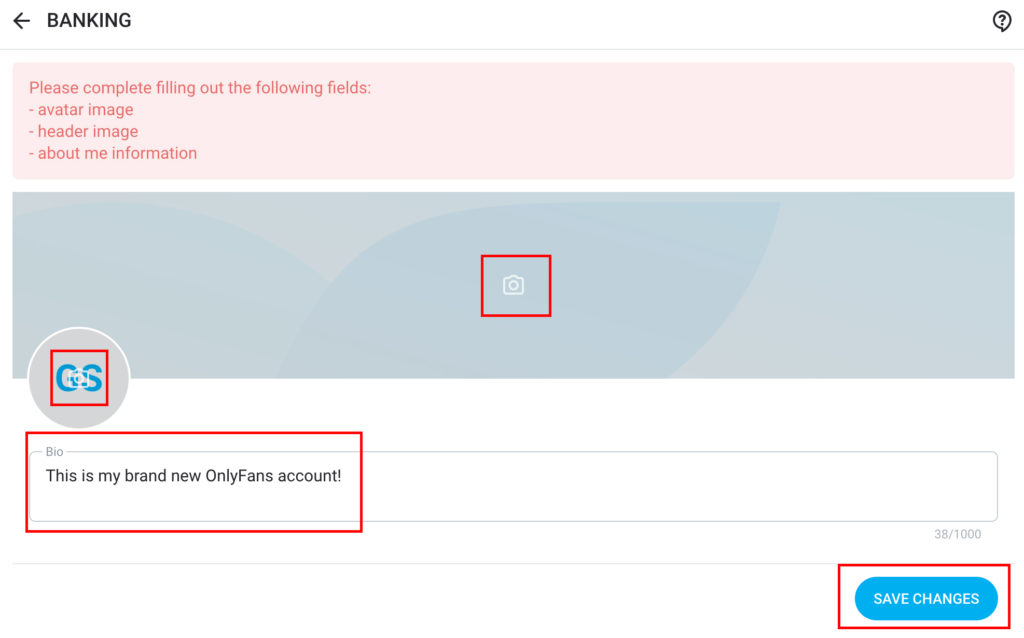 Start by adding an avatar, banner image and fill out your bio section. Do not upload any images with nudity in this section! Stick with SFW (safe for work) images. When you're finished uploading and adding your bio, click save changes.
Next you will be asked to begin identity verification. OnlyFans uses a third-party service called Ondato to handle identity verification, so you will be taken to a separate website and asked which form of ID you'd like to use to verify your identity. You can complete this process with a webcam or any recent smartphone with a good quality camera.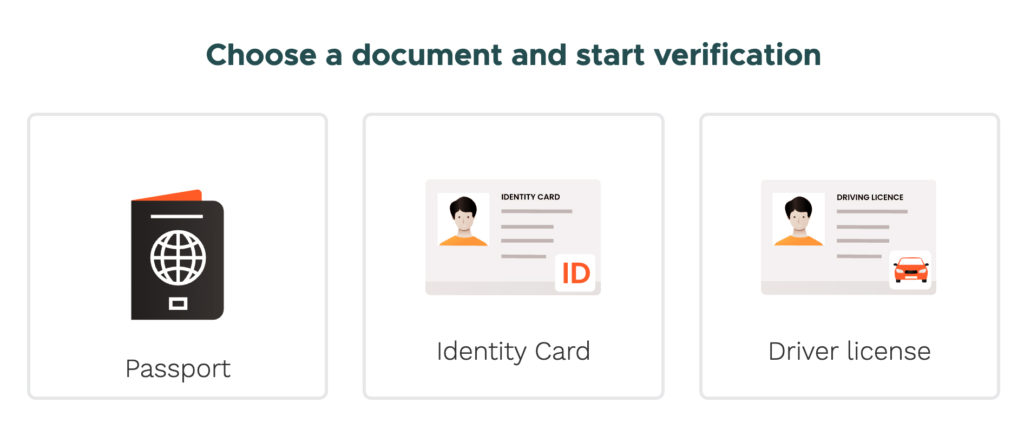 You will then be walked through a process that involves holding up your ID to the camera and showing your face clearly so it can be compared to your ID.
Once the verification through Ondato is finished, you will then be redirected to a page where you will be asked to fill out more personal information and upload a copy of your ID and a photo of you holding your ID.
Do not rotate, zoom or edit these photos before you upload them! Upload them straight from your phone or camera after you take the pictures.
Make sure both photos are perfectly clear and not blurry. Check to make sure you can read all the text on your ID and that both your ID photo and your face are clear and visible in both images.
If your photos are too blurry or hard to read, your account might be rejected!
Now click submit, cross your fingers and wait for OnlyFans to approve your application!
What if I get rejected?
Don't panic! Just because you get rejected the first time doesn't mean you won't be able to get your OnlyFans account approved. Check the reason why you were rejected and try to fix the problem and submit your verification again.
If you keep getting rejected even after fixing the problems they told you about, you can try emailing OnlyFans support and asking them directly why your account isn't being approved.
Sometimes, you may want to delete your existing account and try again with a completely new email address to see if that helps.
Set your subscription price
Once your OnlyFans account has been approved, you can set your subscription price and start earning money!
To set your monthly subscription price, just click on "settings" and then click "subscription price and bundles".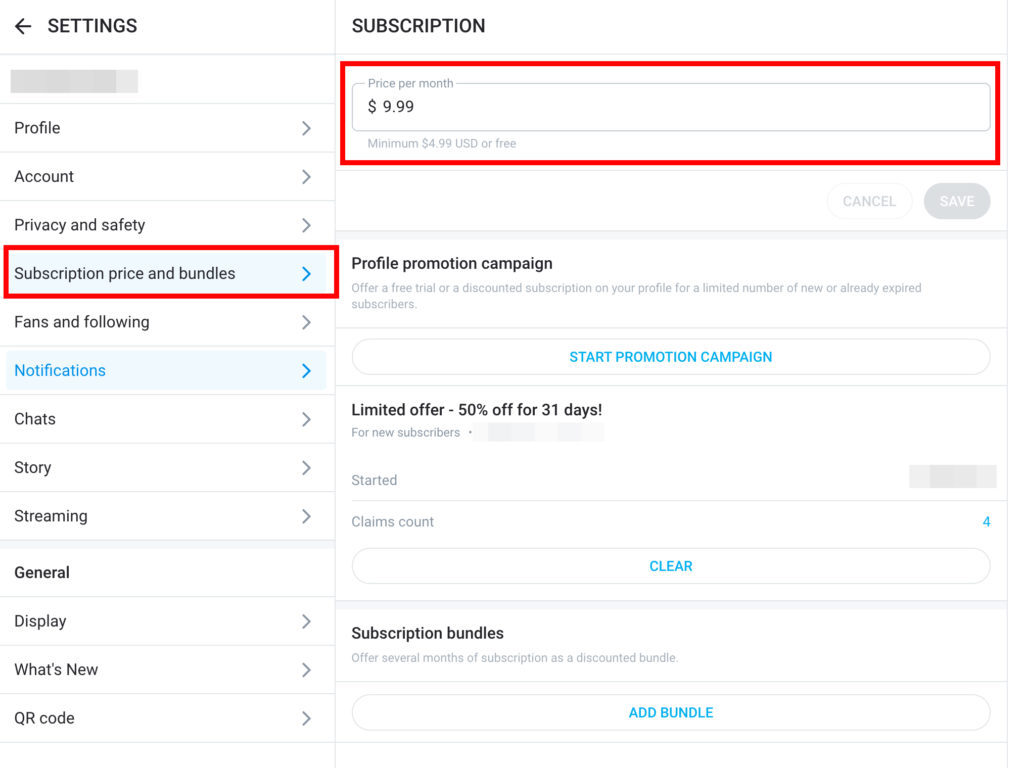 Your subscription price must be higher than 4.99! A good price to start with is 9.99 and this is the default for most creators on OnlyFans at the moment.
If that seems a bit low, don't worry! There are many ways to earn more money using different OnlyFans features. This is just the initial price people will pay to get access to your account.
At the moment, OnlyFans only allows creators to set a single subscription price. You cannot have different pricing tiers on OnlyFans. If you need a service that allows pricing tiers, you can check out some of the OnlyFans alternatives.
Different ways to make money with OnlyFans
OnlyFans offers many different ways to make money in addition to your monthly subscription fee.
Live streaming
Going live on OnlyFans is a great way to earn extra money. Most fans like the authenticity and personal feeling of seeing their favorite creators on live stream and being able to interact with them in real-time.
There are two different ways to make money with OnlyFans livestreams:
Payment gated streams: this option is only available to free accounts (ie accounts with no subscription fee). You can charge users a fee to be able to join the livestream.
Tips during live: this is the typical way to earn money. Encourage viewers to tip during the stream.
Pay-Per-View (PPV) messages
This is one of the most common ways to make extra money with OnlyFans. You can send exclusive PPV content to your all your fans at once and require them to pay so they can see what you sent them.
To send a PPV message to your fans, go to the messages page and then click the plus (+) icon in the top right corner.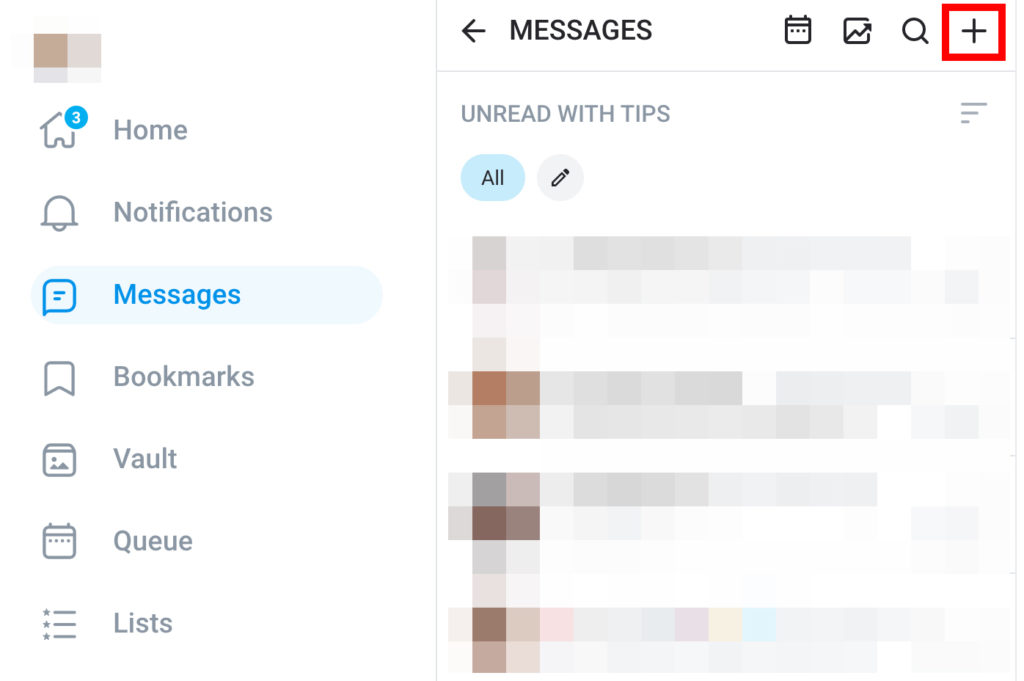 Then, select "Fans" to send the message to everyone who is a paying fan. You can go in and manually remove or add people to this list by clicking the check mark next to their usernames.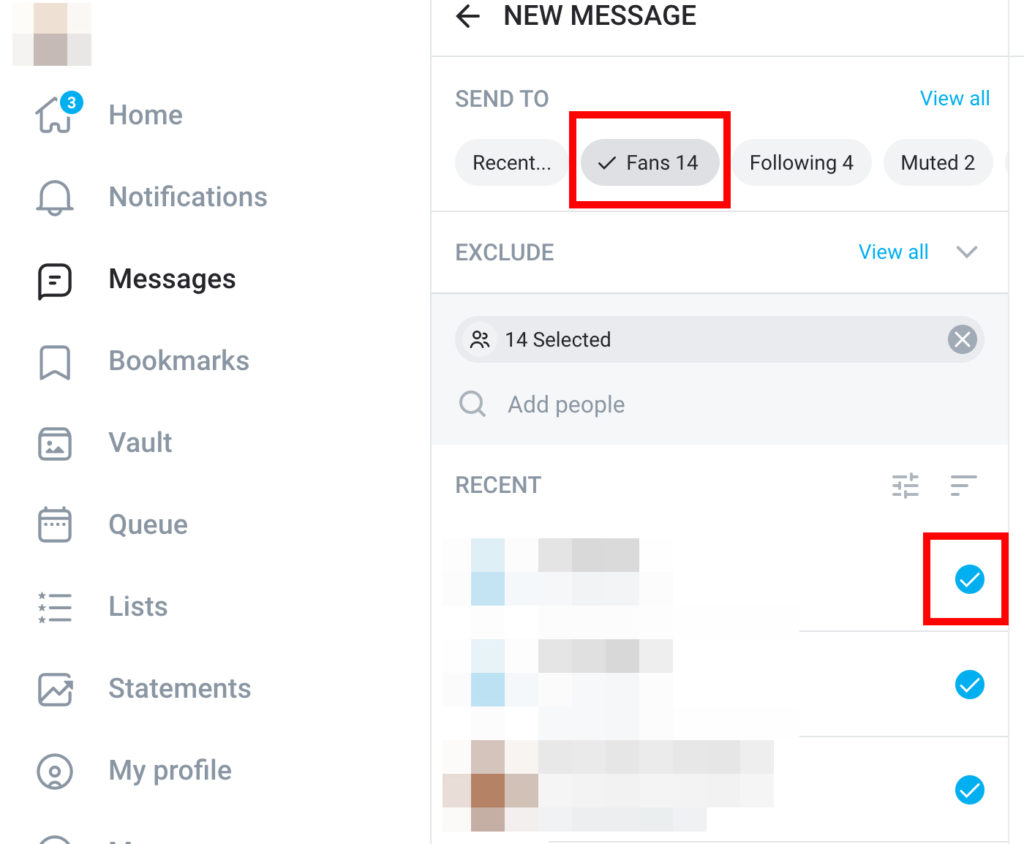 Next, go to the message draft area and click on the money tag icon to add a price for your PPV message. Choose an amount and click save.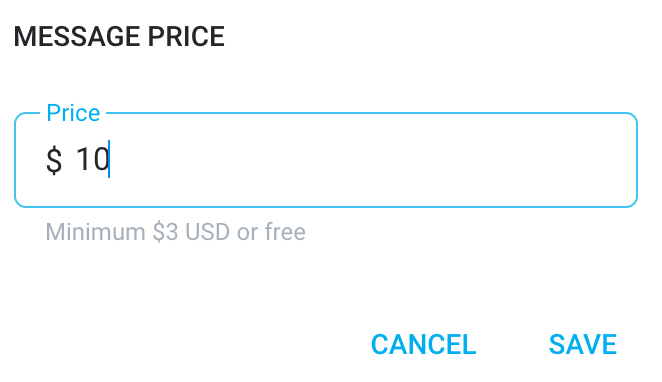 Then click on one of the content types (image, record video, record audio, choose from vault) and add the content that you want to be locked and require payment to view.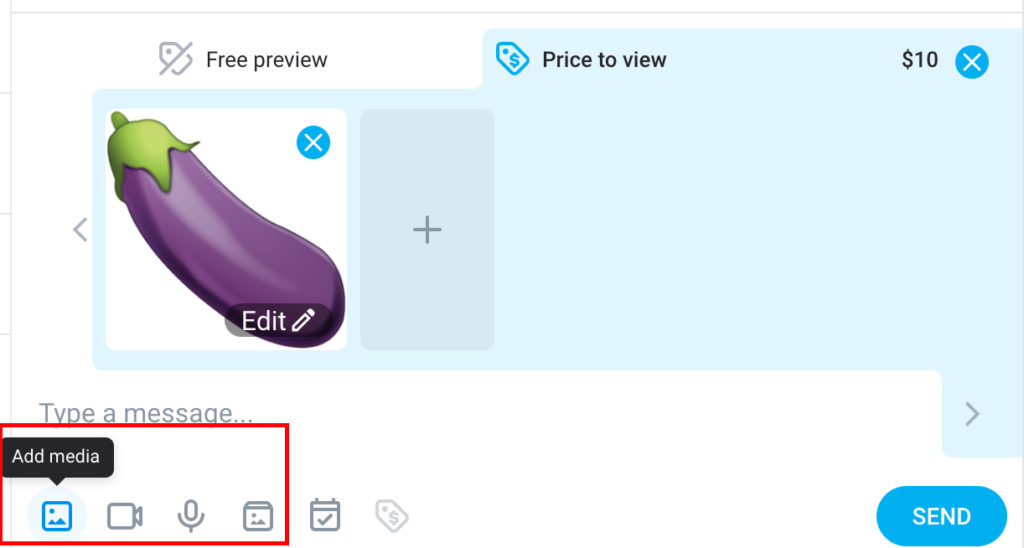 Then click send and wait for the PPV money to roll in!
Content locked posts
Similar to PPV messages, you can also lock content that you post on your OnlyFans feed and require fans to pay to view it.
Note: this feature is only available to models with free pages (no subscription fee). If you have a subscription price, then you will only be able to sell PPV in the DMs.
Tips and donations
You can set a donation or tip goal on the content you post to your feed. You can encourage even more tips by promising to deliver more content if the tips reach the goal amount. For example: "if this post hits the $50 goal, then I'll release the full video".
Dick ratings
Believe it or not, dick ratings are one of the most popular requests from male subscribers on OnlyFans.
Men are often willing to pay to have models on OnlyFans rate their dicks. This could be as simple as a basic 1 – 10 number rating, or it can be as complex as a full video where the model describes the dick and talks about what she likes about it.
DMs and chat games
Many OnlyFans subscribers like to chat with content creators. A big part of what makes OnlyFans so appealing to paying customers is that they can chat 1-on-1 with the person who's making the content.
You can charge fans a price to play games in DMs like roleplay chat, sexting, etc. Get creative, because sometimes just talking dirty (or talking dirty in a creative way) can be a great way to earn money with OnlyFans!
How to get more subscribers on OnlyFans
The best way to grow your subscriber count on OnlyFans is to use social media in a smart way. There are many different social apps and websites to choose from. All of them have different pros and cons. As a general rule: you should use the same username for all your social profiles and your OnlyFans. This way it's easy for people to find you on the internet. Also, if one social profile gets banned or deleted, your fans will be able to find the other profiles.
Instagram
Instagram is the biggest social media app right now. While it's difficult to grow a following from scratch in 2023, if you already have a following on Instagram, it's a great app for promoting your OnlyFans to people who already know you.
It's recommended not to link directly to the OnlyFans.com but instead use a separate landing page that hosts a link to your OnlyFans profile. It's possible that Instagram will flag your account for "sexual solicitation" or maybe even ban you completely if it detects an OnlyFans link.
You can use a service like LinkTree or Beacons.ai to host a page with a link to your OnlyFans or other sites where you're selling your content. Put that link in your bio and let your followers know you have premium content in your stories and post captions. Some will be curious enough to subscribe!
Instagram now lets all accounts put links directly in their stories, so you can now put a link right in your stories so people can easily access your OnlyFans.
If you're still a small account on IG, reels are a good content type to use right now. IG is heavily promoting reels and you will generally get better reach with a reel than you will with a normal feed post.
TikTok
TikTok is one of the easier platforms to grow on right now. Because TikTok has a better recommendation algorithm than Instagram, your posts will be seen by more people, leading to more organic growth.
Note: check out our full guide on gaining OnlyFans subscribers through TikTok.
The recipe for success on TikTok is to just post thirst trap videos and make it clear in your bio that you have OnlyFans. Be careful not to post anything sexually explicit. TikTok is quite strict about keeping adult content off the platform, so make sure your posts don't show or imply any nudity.
One of the fastest ways to grow on TikTok is to look at the "trending hashtags" section on the discovery page. Pick a trend with a lot of activity, watch the popular videos for that trend and then make your own version. Usually if you do these trends regularly and hashtag them properly, you can get a lot of views very quickly.
Reddit
The best way to use reddit is to go through this list of NSFW subreddits and choose some that are relevant to you and the type of content you're posting. For example: if you have a lot of tattoos, you could post in r/hotchickswithtattoos.
Note: click here to read our full guide to promoting your OnlyFans with reddit
The main problem with reddit is that most NSFW subreddits have fairly high karma requirements (and usually the exact number isn't publicly listed). So, you'll have difficulty posting with a fresh account that doesn't have any karma or post history.
The best thing you can do with a new account is to get verified on a big NSFW subreddit that's relevant to your niche. For girls, there are a number of "GoneWild" subreddits that cater to various niches (for example: PetiteGoneWild, AsiansGoneWild, GoneWildCurvy, etc.)
Usually, you can easily become a verified poster by taking a picture of yourself holding a sign with your username, the date, and the subreddit name. Just submit that photo to the mods of the subreddit and they will manually verify if it matches their requirements. Most subreddits do not require your face to be verified, however, your photo does need to be able to identify you by your body.
Once you've got some karma and your posts are getting noticed, you should funnel redditors to your OnlyFans.
Edit your reddit profile and include a link to your OnlyFans so people know where to find you.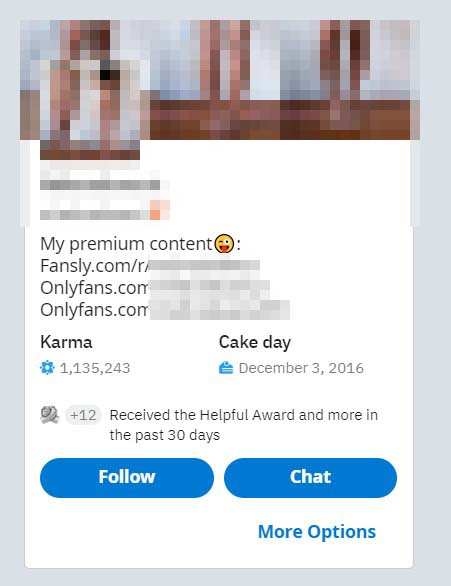 Remember to read the rules for subreddits before posting. You want to make sure your posts are relevant to the subreddit.
It's a good idea to not give away too much on reddit and keep the "special" content for OnlyFans. You could post implied or partial nudity on reddit and save the full nudes for OnlyFans. Many creators don't reply to DMs on reddit and instead tell people to sign up for OF if they want to have a chat in the DMs.
Twitter / X
Twitter (now called X) is one of the best social networks for sex workers and adult content creators. They have always allowed nudity and have outlived platforms like Tumblr that removed all adult content a few years back.
The key to growth with Twitter is getting retweeted by bigger accounts to get more eyeballs on your content. You can join retweet groups or DM users who are in a similar niche as you and ask if you can trade retweets to help each other grow.
I've personally found that lots of OnlyFans models on Twitter are very open to doing retweet-for-retweet to help promote your accounts together. Even when their accounts were much bigger than mine, many models were still happy to cross-promote. You may even make some new friends or find people to collab with in the process!
Can you make money on OnlyFans without being famous on social media?
The good news is that it's possible to make money on OnlyFans without a big following on social media. In fact, it's sometimes better to have a smaller online following because it makes you more "niche" and the people who do follow you will feel that your OnlyFans is more of a hidden gem.
There's also less of a chance that your content will be stolen and uploaded elsewhere on the internet if there are fewer people following you on social. Big accounts often have to deal with more piracy due to their popularity.
If you can't rely on subscriber volume for income with OnlyFans, then focus on giving better personal content to your fans. Take custom photo and video requests, be more active in your DMs and give people special content that they can't find on other pages. That will help you stand out and also ensure that you can justify higher prices for your content.