Shooting porn can be a fun hobby or even a full-time career. If you're interested in shooting homemade porn, this guide will give some tips and gear recommendations for making better porn on your smartphone.
If you're just starting out shooting porn as an amateur (maybe by yourself or with a significant other), you'll probably be using your smartphone.
The cameras on smartphones now are very good quality. Newer phones even have wide-angle lenses and very good image stabilization, meaning the footage won't be shaky.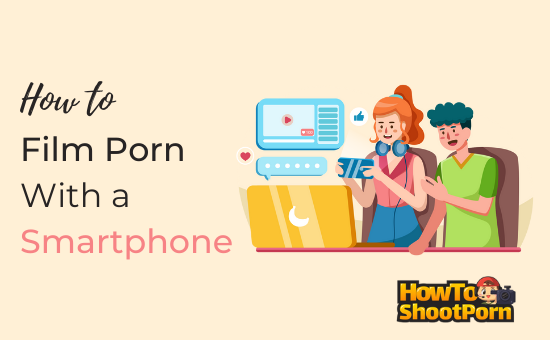 In this article, we'll look at why smartphones are great for shooting porn, especially if you're a beginner, and also how to make your smartphone porn look as professional as possible!
Should I Shoot Porn With My Phone?
The short answer is: probably, yes. If you're just starting out shooting porn and aren't experienced with making video content already, then your smartphone is going to give you the best result with the least amount of headache.
Smartphones are easy to use and you probably already have one that can film HD video. All you need to do is open the camera app and press record!
It's easy to get obsessed with gear and spend hours binging camera reviews on YouTube looking for the perfect rig and fantasizing about how good your footage will look with a brand new mirrorless or cinema camera.
The truth is that, as a beginner, you should be thinking more about basic things like shot composition, angles and lighting. The camera you're using to film with doesn't matter nearly as much as many people think it does.
The camera is not nearly as important as the content you're filming. So, focus more on how to make hot, sexy porn and less on which camera you're using!
If you do decide want to go for a more professional look or just want to up the quality of your homemade porn, check out our list of cameras we recommend for porn.
Which Phones Are Best For Shooting Porn?
The two smartphones I'd recommend for shooting porn are the iPhone 14 Pro Max and the Samsung Galaxy S23.
Both of the above brands have high-quality wide-angle lenses and good enough image stabilization that you won't need a gimble or any extra hardware to get a clear picture, even while shooting POV with lots of motion in the shot.
However, any current generation smartphone will be able to take pretty decent videos. Wide angle cameras are standard in current gen smartphones, so which brand you choose doesn't matter much
If you're using an older smartphone that doesn't have a built-in wide-angle lens, then you might want to consider getting a wide-angle clip-on lens for your phone to expand the field-of-view. A wider angle is very useful when shooting POV porn handheld.
What Settings Should I Use To Film Porn?
At a minimum, you should be shooting in 1080p (Full HD) resolution at 30 frames-per-second (fps). This is the default resolution for many smartphone video apps, so chances are if you pull at your phone and start filming, it's already going to have these settings!
If you want your footage to look smoother and more lifelike, then you should try filming at 60fps. This will make your footage look buttery smooth and very realistic. Many people enjoy 60fps porn because they can feel a greater level of immersion when watching it.
If your phone has the option, shooting 4k video can be nice, too. Though, the file size will be much bigger and sometimes 4k footage can be a bit difficult to edit on older or lower spec computers. One benefit of 4k is that you can crop your footage more without losing much detail.
A 4k porn video will look very good on a proper 4k monitor and some people will want to watch high-res porn only!
Adding a Lens
When filming porn, you usually want a very wide angle view so all the action is included in the frame. As mentioned earlier, many current generation smartphones have a wide-angle lens built-in, so you can just choose the widest angle when filming video and you're good to go.
If you have an older phone, you can still get a wide-angle view by adding a clip-on lens attachment.
Moment offers very nice, high-quality clip-on lenses. They're a bit more expensive, but if you have some extra cash, they can be a great addition to your amateur porn toolkit.
If you're on a budget, there are plenty of other clip-on lenses out there, many of them costing as low as $10 USD.
Once you attach the clip-on lens to your phone, you'll notice an instant difference. The frame will become much wider. The only downside of wide-angle lenses like these is that they create some distortion. Most wide-angle smartphone lenses are fisheye lenses, so they will warp the edges of the frame. Some people like this effect and some don't (I'm a big fan, personally).
Fix Your Lighting
Lighting is the most important part of shooting high-quality homemade porn.
Because people often have sex at night or in dim lighting, some sort of external light source is helpful for getting a clearer image.
If you're having sex during the daytime, open some windows and let more light in! In general, the more light you have, the better. You may notice while shooting video in low-light on a smartphone that the video seems laggy or slow. This is because the camera is trying to properly expose each frame. The camera often does this by dropping the shutter speed to let more light in, giving you a choppy video.
Turn On All The Lights
If you're shooting porn at night or you're in a room with poor natural lighting, the next best thing you can do is get some sort of artificial lighting in the room. Turning on lights, lamps, or even TV screens and computer monitors can help add extra light to the scene and give you a clearer and more stable video.
Use The Flash On Your Phone
You can also turn on the flash while filming to shine more light on the scene. This is a great idea if you're shooting in a dark room or at night.