Have you and your partner ever thought of filming your sexual adventures together?
Whether you're trying to make money on your homemade sex tapes or just want to add a little variety to your sex life by making porn with your partner, this article will teach you how to make a high-quality sex tape.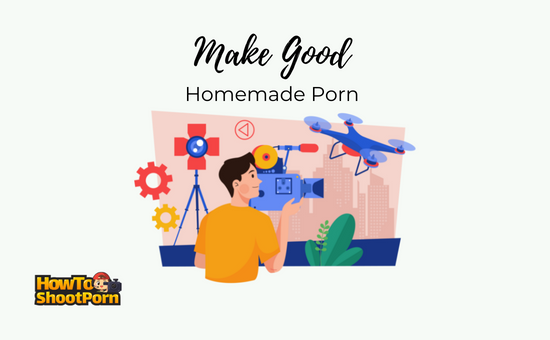 Making good quality homemade porn is easier now than ever. Anyone can do it with tools you probably already have access to!
Get Inspired
Before you pull out your phone and start filming, take some time to think about how you want your homemade porn to look. Spend some time watching porn with your partner. Look for other amateur couples who shoot videos that turn you on and look good. Pay attention to where they put the camera and which different actions they film.
Sure, you can just whip out our smartphone and film a 15 second POV video with the Instagram stories camera, but this won't feel very intimate or exciting.
It's easy to get lost in the moment when you start having sex, so let's talk about how to make a plan before you film to make sure you get quality footage that will be exciting to watch.
Have a Plan
Good porn is like a good movie: there's a beginning, middle, and an end. This is why many porn videos start with some basic foreplay like kissing or oral sex and end with a cumshot as the "climax" scene.
It's a good idea to think about all the different scenes you could include in your video and then narrow it to 3 – 5 different positions/acts. Here's a sample list of things you could include:
Kissing and making out
Oral sex (blowjob, cunnilingus)
Posing in sexy lingerie or costumes
Playing with toys
Different positions of penetration (missionary, doggystyle, cowgirl, etc.)
Female orgasm
Cumshot
It's a good idea to film about 5 minutes of each position or activity you want to include in your final porn video. So, if you're planning to have a blowjob scene (for example), you'll want to shoot at least 5 minutes of blowjob footage.
Note: 5 minutes might seem like a short amount of time, but when you're filming, time can pass very slowly!
What To Film With?
There are tons of cameras that you could use to film porn with. In fact, there are way too many to cover here. We have a detailed article on the best cameras to use to shoot porn.
Smartphone
The easiest way to start filming porn is to just use your smartphone! You and your partner probably both have one already and the cameras on smartphones are of great quality. They have all the features you need for a good porn camera: fast autofocus, Full HD 1080p video (or even 4k on recent phones) and they're lightweight and easy to hold while filming in POV!
Check out our in-depth article on filming porn with your smartphone.
Webcam
Any webcam with Full HD 1080p video is a great camera for shooting porn. The Logitech c920 is one of the most famous cameras used by live cam models and is a great investment if you're planning on shooting porn regularly or experimenting with live camming.
DSLR
This is more of a professional solution, but if you have access to a DSLR, it's a great choice for shooting porn. Just make sure your DSLR has autofocus when shooting video (many older models do not) and that you can get Full HD resolution when filming. If your DSLR is missing either of these two features, then a smartphone is a better choice.
Lighting and Environment
Since it's common to have sex at night, many couples will try to film porn in a dark room at night time with dimly lit mood lighting and the results are terrible!
The simplest hack for making good-looking porn videos is to film in natural daylight near a big window. Natural light is bright and ensures more even lighting that will be more flattering for you and your partner.
If you can't shoot during the daytime or prefer filming at night, then you could invest in a ring light or other LED light kit but it's going to be trickier to set up and make it look good if you're still a beginner at filming porn.
Editing
Once you finish filming your video, you'll want to edit it.
Chances are there are some boring moments or shots where you're adjusting the camera, or even some funny bloopers or things you want to cut out.
If you're filming on a smartphone, InShot is an excellent video editing app for phones. It's available for both iOS and Android and is very easy to use. You also don't need to bother with transferring the video files onto your computer since everything can be done right from your phone!
If you're shooting with a DSLR, point-and-shoot, or webcam then it's probably easier to edit on your computer with proper video editing software. Adobe Premiere, Davinci Resolve, and Final Cut Pro are all great choices. Each has a different interface and workflow, so give them each a try and see what you think.
Storage and Sharing
After you've finished editing and exporting your video, you'll probably want to share it with your partner (or with the world if you're planning to make money from your porn!)
Private Storage
If you just want to keep your homemade porn private and between you and your partner, then it's good to use a service like Dropbox or Google Drive to share the file with your partner. Both services allow you to create a folder and give someone access by adding their email address. Just be careful to make sure you type the correct email and it doesn't get sent to a stranger!
Public Storage
On the other hand, if you want to share your video with the world, you can upload it to one of the free porn tube sites. PornHub, XVideos, and XHamster all allow users to upload their own porn content. You may need to verify your account before posting, though.