Patreon is a platform that lets content creators run their own subscription service. While everyone has been talking about OnlyFans in the past couple of years, Patreon has been around since 2013 and has a long track record as a membership subscription service for creators.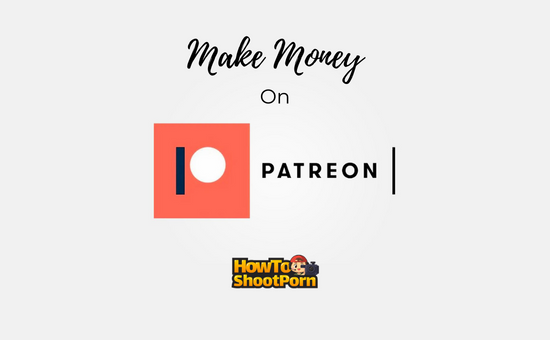 In this article, we'll look at the benefits and limitations of using Patreon instead of other platforms and the best types of content to create so you can earn more money on Patreon.
Should I Use Patreon or OnlyFans?
When you want to start making money from your sexy content, one of the first questions you ask is: what platform should I use? There are so many choices at the moment. Each platform has its pros and cons.
The two main things that separate Patreon from OnlyFans is their limits on sexual content and the way subscriptions are managed.
Sex Content and Nudity
Patreon and OnlyFans are two of the biggest players for subscription services. Patreon is more focused on mainstream artists and content creators, while OnlyFans is focused more on adult and NSFW content.
Patreon does allow nudity and softcore content, but if you're planning to post anything sexually explicit (ex. masturbation or full sex) then you should probably go with OnlyFans.
If you're planning to post sexy photos, cosplay content, boudoir photography, or art nude photos, then Patreon is a great choice.
Subscription Model
The methods for making money on Patreon and OnlyFans are a little bit different. OnlyFans allows only one membership tier. So, you can only set one price for all subscribers to pay monthly to access your content.
Patreon, on the other hand, allows you to design your membership system with multiple tiers. That means you can set different prices for each type of monthly membership and then share different content with each membership tier. This is good because you can give higher-paying members more exclusive or special content.
Most OnlyFans creators have to upsell extra content to their already-paying members in order to make money because the standard membership price on OnlyFans is around $10 USD.
Patreon makes things a bit easier on the content creator's side because they can just set their membership tiers and tag content appropriately, meaning they do less marketing work and upsells to their existing members.
Does It Cost Money To Use Patreon?
Nope! Patreon is free-to-use for creators. There's no up-front, monthly cost to build your Patreon membership service. However, Patreon does take a percentage of earnings from creators. They currently have three tiers for creators which each include different benefits.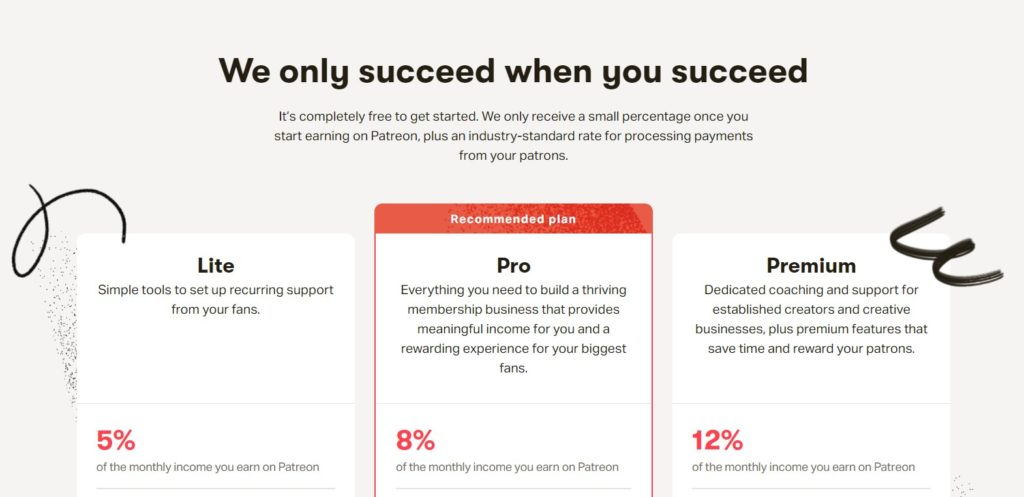 Let's take a look at the pricing tiers in more detail.
Lite – 5% of monthly income
This is the most basic Patreon pricing tier. This will allow you to build a subscription service, host your content on Patreon, accept payments, use Patreons communication tools to interact with your members and also gives you access to some workshops to teach you how to use the platform effectively.
Note: you will only get access to one membership tier in Patreon Lite. So, if you want to provide multiple tiers, then you should consider Pro or Premium.
Pro – 8% of monthly income
This will give you access to everything in Lite plus multiple membership tiers, analytics and insights tools, special offers tools, workshops led by other Patreon creators to teach you more about the platform, unlimited app integrations, and priority customer support.
This tier is probably the best for most creators as it gives you the most flexibility while still being under 10% in fees.
Premium – 12% of monthly income
Includes everything in the Pro tier plus a dedicated partner to help you manage your account, merchandise for your membership, and team accounts.
Most creators probably don't need a premium subscription. This is only if you're doing huge amounts of sales volume or have a large business creating content already.
How Much Money Can You Make On Patreon?
There are many content creators who are making tens of thousands of dollars per month with their Patreon accounts.
There's no real limit on how much you could make with Patreon. At the time of writing, one of the top Patreon accounts is a podcast earning $160,000 USD per month!
The main thing you'll need to increase your Patreon earnings is good marketing on social media or an established presence on some app or website. If you already have an Instagram or Twitter following, for example, it's a good idea to promote your Patreon page regularly on those accounts.
What Type of Content Should I Post On Patreon?
While Patreon doesn't allow sexually explicit content like masturbation or full sex, you can still post some pretty lewd stuff as long as you're creative about it.
Softcore sexy photos, ASMR or sexy audio, dancing/teasing videos, and cosplay are all examples of content that will do very well on Patreon!
Let's take a look at some top-performing sexy Patreon accounts…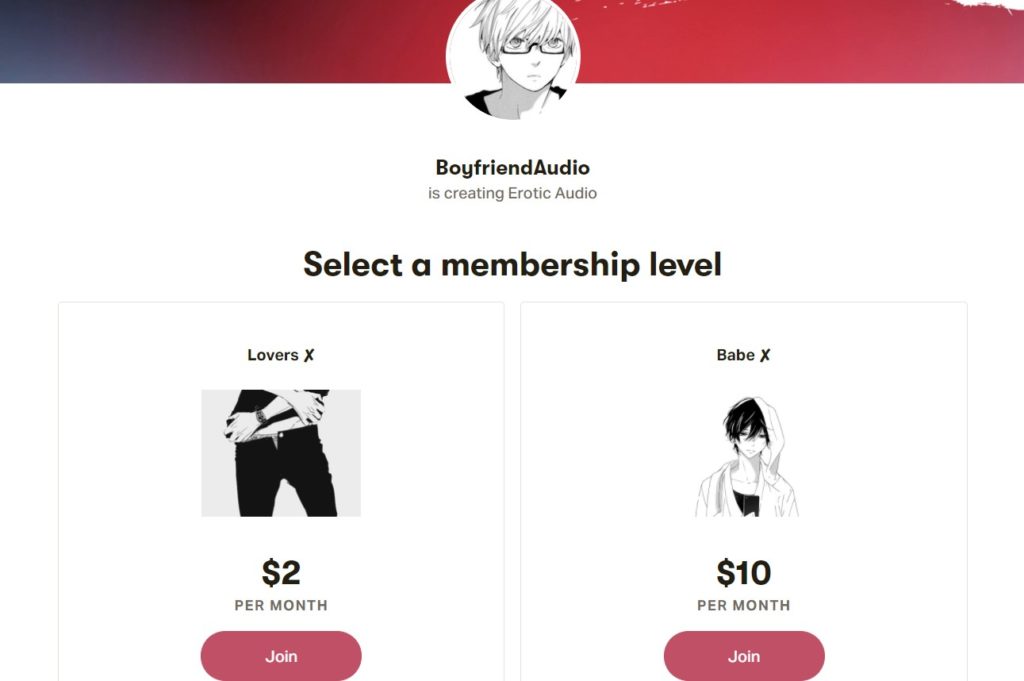 Boyfriend Audio is one example of a huge Patreon page that makes erotic ASMR audio for members. Even though the content is sexual, because it's audio, it's totally fine by the Patreon rules.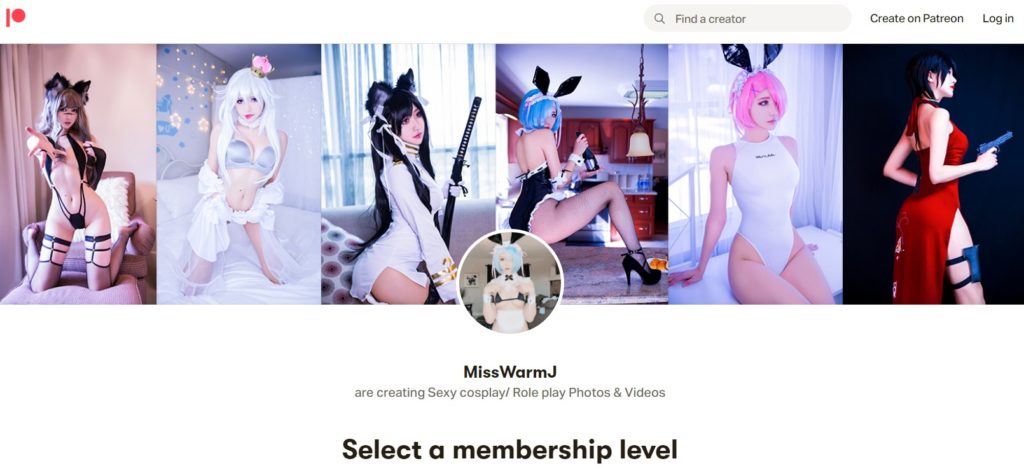 MissWarmJ is a good example of a big cosplay account with many different membership tiers. If you're planning to post sexy softcore content on your page, then her profile can be a good source of inspiration!