As an amateur male performer in the porn industry, I often get asked the question "how can I get started in porn?" or "how can I do what you do?"
I even used to ask the same question myself back before I got started in porn! I would spend hours googling and looking on forums for any information I could find on how I could break into this industry where I could fuck all these super hot chicks!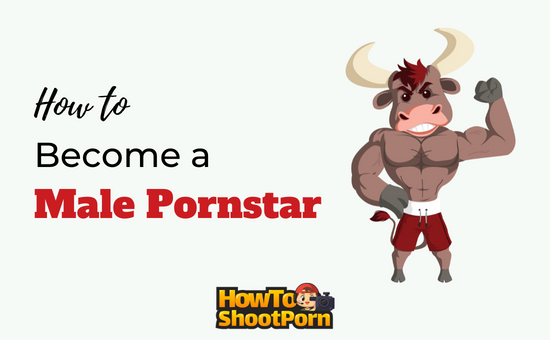 I don't think there is any great primer for guys who want to break into the porn industry, so this is my attempt at making one!
What is the easiest way to be a male pornstar?
If you just want the fastest route to making porn that people actually watch (and maybe pay for), the best way to do it is to just find one girl and film some scenes together. She could be your wife, girlfriend or friend-with-benefits (FWB), it doesn't matter! The point is to find someone else who is OK with filming and then actually go make some content and post it somewhere!
The beauty of the internet in 2022 is that if you do everything above and post it on a porn site and people actually watch it, then BAM! You're already an amateur pornstar!
From there, you can do lots of different things to improve your scenes. You can upgrade your camera equipment, learn about lighting and shooting techniques, learn how to not cum so fast so you can film for longer periods of time, etc. Once you start filming, you can start going down the porn rabbit hole!
This is always the way I recommend that guys break into the industry these days. It's going to be challenging to go to an existing porn company or studio and just ask to be a male talent in their videos. If you have no portfolio, there's no way they would ever consider you!
If you film some homemade or amateur content, then PornHub can become your portfolio as a male talent!
You might even decide that you don't want to work for a big studio and just prefer making some high quality homemade sex tapes with wifey! That's OK, too!
Do I need to do gay porn before doing straight porn?
I remember this was a big rumor many years back: in order to do straight porn, you had to get started by doing "gay for pay" scenes to build up your portfolio.
I'm not sure how true this was (or still is), but if you really want to do straight porn then you can just follow the advice above and start filming content with a female partner. That will help you build your portfolio to open the door for more straight porn opportunities.
Due to the internet and how easy / cheap it is to film amateur porn now, I imagine gay for pay will mostly be a thing of the past as upcoming guys can just easily build a portfolio of straight content to begin with.
That being said, gay porn is a big niche and if you're bisexual or open to doing gay for pay, it might be something you want to consider! There are probably more opportunities for men who are willing to branch out a little!
How much money do male pornstars make?
Since being a male talent in porn is one of those jobs that every guy wants to do in theory, there is a lot of competition. Many guys would probably do this job for free, even! This means that you're not going to get such a competitive salary as an entry level male pornstar. An average monthly paycheck might be around $1,000 per month.
Salary comparison website, Comparably says:
The average Male Porn Star in the US makes $31,169. Male Porn Stars make the most in San Francisco at $46,419, averaging total compensation 49% greater than the US average.

Comparably
Of course, with enough work, you might be able to be in higher demand, but you shouldn't bet on it. If you're mostly interested in making money, I would recommend starting your own porn business or learning how to make money with OnlyFans or similar subscription services.
Do you need a huge dick to be a male pornstar?
After watching a lot of porn, you probably think that any guy who wants to get into the industry has to have a huge cock.
While there is some truth that big dicks are desirable for male talent, it's definitely not a necessity. Especially not in 2022 when it's easy for anyone to break into the industry. There's even a fetish for girls having sex with guys who have small dicks (yes, there's a fetish for almost anything).
If you're not well-endowed and have dreams of being a pornstar, don't worry too much. My dick is just average at best (and one of my ex-girlfriends even said it was small!) and I've been doing porn for many years. No one seems to care about my dick size. They're mostly in it for the girls, anyway!
Do you ACTUALLY want to work in porn?
There's a great story from pornstar James Deen where, before he got started in the industry, he listened to an interview with Jenna Jameson where she said:
You wanna do porn? Go get a folding chair and sit in a room with twenty people and jerk off for an hour. And if you can keep hard, and when one of them yells "Come!" you can come in thirty seconds, then you can do porn.

Jenna Jameson
James Deen figured that was something he could probably do, so he decided to keep pursuing his dream of becoming a pornstar!
While the above quote is a bit extreme, there is a lot of truth in it. Working as a male talent in porn is still a job and you need to be able to do your job even when you're not in the mood or when you don't really get along with the female talents, or when there are plenty of other guys in the room, etc.
It's important to remember that even the coolest jobs will make you annoyed sometimes and porn is no different. It can also be quite repetitive doing the same sexual acts for the same amounts of time in the same poses over and over again. Sure, it will be fun early on, but you should always think about whether or not you could do it long term.