What Is a Cam Girl?
A cam girl (or cam boy) is someone who makes money by live streaming and performing by stripping, dancing, teasing, and chatting with viewers on a camming website. Viewers can tip and provide donations for different acts or just to show support to the cam model.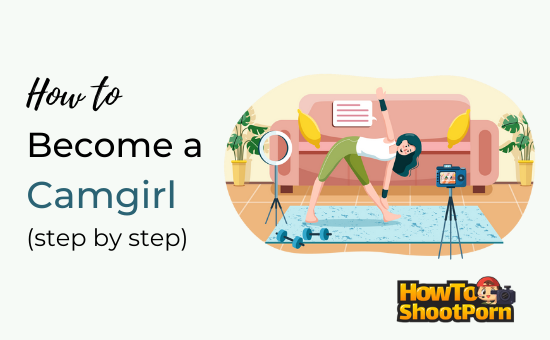 Being a cam girl may seem like easy money, but just like other jobs, it takes time and effort to build a following and compete with other models on big cam sites. If you are a very sexual person, a bit of an exhibitionist or like interacting with people, then live camming might be a very good job for you!
Do I have to show my face as a cam girl?
Showing your face is optional! Some cam girls choose to just show their body from the neck down and others even wear a face mask when doing their cam shows. You can still maintain your privacy and anonymity while performing live on cam.
If you have tattoos, scars, or other identifying information on your body, you may want to cover them up if you want to be more anonymous while streaming on cam sites.
Can I make good money as a live cam model?
Yes! Live camming has always been one of the best ways to make money in the adult industry. People are usually willing to pay more for the level of personal service and real-time interaction they get when watching a girl on a live stream.
That being said, building a following and making a stable monthly income will take time and consistency. Don't expect to sign up for a cam site and instantly be #1 on the rankings or pulling in thousands of dollars overnight. Top cam girls are often online every day performing for and entertaining their loyal fans.
Choosing a Live Cam Service
Three of the most popular live cam services are Chaturbate, MyFreeCams and BongaCams.
Signing Up and Choosing a Username
Once you've picked a cam site to use, you'll need to register and create a username. If you already have a following on other social media platforms or subscription sites like OnlyFans, you can use the same username on the cam site. This makes it easier for people who already follow you to find your cam girl profile. If you want to be more anonymous, then you can choose a completely new and unique username for your cam girl persona.
Getting Verified as a Cam Girl
After you create your account, you'll need to get verified. Usually, this process involves submitting a photo of your passport or other ID such as a driver's license along with a clear face photo to verify your identity and prove that you are of legal age.
Setting Up Your Cam Girl Studio
Many live cam websites will let performers live stream with their smartphones. If you have a recent phone like the iPhone 12 Pro Max, then this can be a great choice and a way to save money on gear.
If you don't have a recent smartphone or just want to go for a more professional cam girl setup, then you should invest in a high-quality webcam and some lighting equipment.
What is the best webcam for a cam girl?
The Logitech C920 is the most famous webcam for cam girls. It can stream Full HD 1080p video, has a built-in microphone and is even compatible with tripods (an important feature if you want to get the best angle for your live camming).
You will generally want to avoid your laptop's built-in webcam as they do not produce a clear image and perform poorly in low light.
What is the best light for a cam girl?
The easiest lighting solution for a cam girl is a basic ring light. These have become really popular with TikTok creators recently, so you may already have one. If you have a tripod-compatible webcam, you can even attach your webcam directly to the ring light for the most flattering light on your face.
How To Get More Followers As a Cam Girl
Consistency is one of the best ways to get more followers as a live cam model. If you want to grow your following, one of the best things to do is set a schedule and stick to it! If you go live at the same time every day or every other day, then your fans will know when to expect you and you'll have a bigger group of viewers in your chat room when you're live. When you have more people watching and chatting, your rank will go up on the cam site and you have a better chance of getting promoted.
You can also promote your live cam profile on other social media like SnapChat, Twitter, or Instagram before you go live. Tell your followers when you will be live with a link to your profile so they know when and where to join.